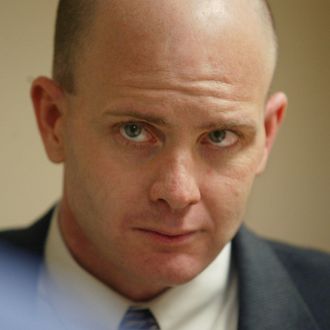 The man formerly known as Shirtless FBI Agent, photographed in 1999.
Photo: STEVE RINGMAN/SEATTLE TIMES/Newscom
The New York Times has identified the FBI agent whose investigation brought down CIA director David Petraeus as 47-year-old Frederick W. Humphries II, a "hard-charging" counterterrorism expert who apparently gets things done. Although Humphries was not assigned to the initial cyberstalking case involving his friend and Tampa military hostess Jill Kelley, he took matters into his own hands, setting off a chain of events that has since burned not only Petraeus and his biographer/mistress Paula Broadwell, but General John Allen and even Humphries, who was rumored to have sent shirtless photos of himself to Kelley. "Fred is a passionate kind of guy," a former colleague told the Times. "He's kind of an obsessive type. If he locked his teeth onto something, he'd be a bulldog."
Humphries was "social friends" with Kelley, according to Lawrence Berger, a lawyer for the Federal Law Enforcement Officers Association, and agreed to look into the harassing messages she received, later found to be from Broadwell. "No one tries to become a whistle-blower," Berger said. "Consistent with FBI policy, he referred it to the proper component."
But when Humphries believed the investigation wasn't moving fast enough, he informed Republican congressman Dave Reichert, and later House majority leader Eric Cantor, who said today that he remained silent about the case through the end of the presidential election for the good of the country. "I had no way of corroborating the story I was told, and I thought that the best thing at the time was not to politicize it and to put national security first," Cantor explained.
The subsequent e-mail searches turned up potentially flirtatious messages between Kelley and General Allen, currently under investigation, as well as correspondence between Kelley and Humphries, who was reportedly "admonished by supervisors who thought he was trying to insert himself improperly into the investigation." But as for those shirtless pics, they're not what they seemed:
"That picture was sent years before Ms. Kelley contacted him about this, and it was sent as part of a larger context of what I would call social relations in which the families would exchange numerous photos of each other," Mr. Berger said.

The photo was sent as a "joke" and was of Mr. Humphries "posing with a couple of dummies." Mr. Berger said the picture was not sexual in nature.
What we're left with, then, is the possibility that the love pentagon is far less scandalous than imagined, and that a comprehensive and context-free combing of anyone's inbox is bound to turn up some uncomfortable nuggets.