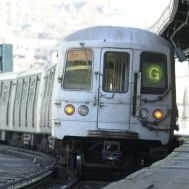 As of Saturday evening, service on the 4, 5, 6, and 7 lines had been fully restored, complete with trains between Brooklyn and Manhattan. According to the MTA, the 2, 3, B, D, F, and M lines are expected to be back in action sometime later tonight or early Sunday morning, as is the Q (including service to Coney Island.) By Monday, New York's subway system should be operating at 84 percent, with E trains running from Jamaica to the World Trade Center, N trains from Astoria to to Sunset Park, and A trains from 168th Street to Lefferts Boulevard/Ozone Park in Queens. The 1 will be skipping South Ferry, for obvious reasons, and service to the Rockaways could take months to restore. However, intra-Brooklyn travel will remain difficult until later in the week, which is when the G and L trains are set to resume. 
Both lines are still in need of pumping, explained MTA chairman Joe Lhota. "The L, I'm particularly worried about because of how long the water is," he said. "My hope is it's one day next week, I really do." Asked why there could not be partial service along the un-flooded portions of the G and L lines, an MTA spokesperson told the New York Observer: 
"The answer on the L is that it's impossible to turn trains around easily mid-route for a Brooklyn shuttle service…Very difficult to set up because of the track layout. They may try now that other lines are getting better service, but that's just a discussion at this point. As for the G, enough of it is parallel to other lines—plus the naturally low ridership."
So, that's bad news for north Brooklynites (there's always the M!), but it's also sort of comforting: Nothing says "getting back to normal" like taking potshots at the G train.