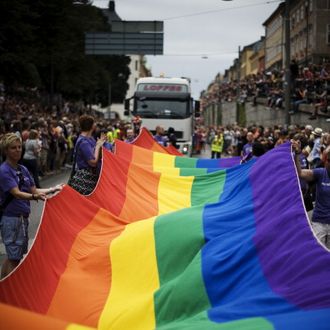 Tuesday was a banner night for liberal-pleasing state initiatives, led by the out-and-out legalization of marijuana and same-sex marriage in at least four states. Maine and Maryland both passed initiatives to allow gay marriage — the first such voter-approved initiatives to pass after 30 states rejected them, as recently as 2009 in Maine, The Wall Street Journal reported. Colorado and Washington, meanwhile, both passed initiatives making marijuana legal not just for medical purposes but for recreation, directly conflicting with federal law. Massachusetts voters approved medical marijuana. Other state initiatives came in along liberal lines as well, but not all of them.
In Minnesota, a move to define marriage as between one man and one woman looked to be losing in early counting, but by midnight the "yes" votes had just overtaken the "no" votes, and with two-thirds of precincts reporting it was too tight to call. In Washington state, a bill to legalize same-sex marriage looked to be leading, according to the Seattle Post Intelligencer's blog, but nobody is calling it a win just yet.
While Colorado and Washington have not only legalized marijuana but set up systems by which to tax and regulate it in their new laws, Oregon voters rejected a similar initiative there, CNN reported. A measure in Arkansas that could have made it the first Southern state to legalize medical marijuana also looks to be heading for defeat, per Huffington Post.
But while gay marriage and marijuana grabbed most of the headlines, some less liberal-friendly measures found a modicum of success as well. Politico noted that Alabama voters "overwhelmingly approved a ballot measure that would forbid mandated health insurance," and those in Montana looked to be supporting a similar measure. Florida rejected its proposed ban of Obamacare. California, meanwhile, did not look like it would pass a repeal of its death penalty.
But the real winning issue on Tuesday was gay rights. As Dan Amira pointed out in the live blog, we now have our first openly gay senator in Tammy Baldwin, of Wisconsin, and a president who supports same-sex marriage. And two states have already shown their support for marriage equality with another two possibly joining them. Not bad for a night's work, America.
Update, 10:55 a.m.: It's official in Minnesota, where a ballot measure enacting a constitutional ban on gay marriage has been defeated. In Washington, a ballot measure that would ratify a marriage equality law passed through the legislature earlier this year is currently at 51.8 percent for and 48.2 percent against, but only half of the vote has been tallied so far.