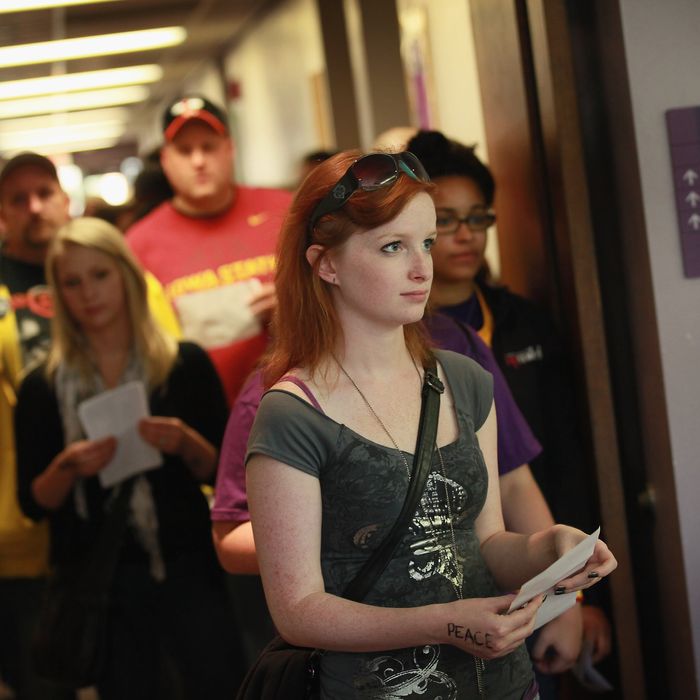 Photo: Scott Olson/2012 Getty Images
How doomed are conservatives? Pretty doomed, if you look carefully at the Pew Research Survey's close analysis of the youth vote in the 2012 elections. The Republicans' long-term dilemma has generally been framed in racial terms, but it's mainly a generational one. The youngest generation of voters contains a much smaller proportion of white voters than previous generations, and those whites in that generation vote Republican by a much smaller margin than their elders. What's more, younger voters supported President Obama during the last two election cycles for reasons that seem to go beyond the usual reasons — social issues like gay marriage and feminism, immigration policy, or Obama's personal appeal — and suggest a deeper attachment to liberalism. The proclivities of younger voters may actually portend a full-scale sea change in American politics.
More than four decades ago, Lloyd Free and Hadley Cantril identified the core of Americans' political thinking as a blend of symbolic conservatism and operational liberalism. Most Americans, that is, oppose big government in the abstract but favor it in the particular. They oppose "regulation" and "spending," but favor, say, enforcement of clean-air laws and Social Security. The push and pull between these contradictory beliefs has defined most of the political conflicts over the last century. Public support for most of the particulars of government has stopped Republicans from rolling back the advances of the New Deal, but suspicion with "big government" has made Democratic attempts to advance the role of the state rare and politically painful.
This tension continues to define the beliefs of American voters. Among the 2012 electorate, more voters identified themselves as conservative (35 percent) than liberal (25 percent), and more said the government is already doing too much that should be left to the private sector (51 percent) than asserted that the government ought to be doing more to solve problems (44 percent). But this is not the case with younger voters. By a 59 percent to 37 percent margin, voters under 30 say the government should do more to solve problems. More remarkably, 33 percent of voters under 30 identified themselves as liberal, as against 26 percent who called themselves conservative.
What all this suggests is that we may soon see a political landscape that will appear from the perspective of today and virtually all of American history as unrecognizably liberal. Democrats today must amass huge majorities of moderate voters in order to overcome conservatives' numerical advantage over liberals. They must carefully wrap any proposal for activist government within the strictures of limited government, which is why Bill Clinton declared the era of big government to be over, and Obama has promised not to raise taxes for 99 percent of Americans. It's entirely possible that, by the time today's twentysomethings have reached middle age, these sorts of limits will cease to apply.
Obviously, such a future hinges on the generational patterns of the last two election cycles persisting. But, as another Pew survey showed, generational patterns to tend to be sticky. It's not the case that voters start out liberal and move rightward. Americans form a voting pattern early in their life and tend to hold to it. That isn't to say something couldn't shake these voters loose from their attachment to the liberal worldview. Republicans fervently (and plausibly) hoped the Great Recession would be that thing; having voted for Obama and borne the brunt of mass unemployment, once-idealistic voters would stare at the faded Obama posters on their wall and accept the Republican analysis that failed Big Government policies have brought about their misery.
But young voters haven't drawn this conclusion — or not many of them have, at any rate. So either something else is going to have to happen to disrupt the liberalism of the rising youth cohort, or else the Republican Party itself will have to change in ways far more dramatic than any of its leading lights seem prepared to contemplate.