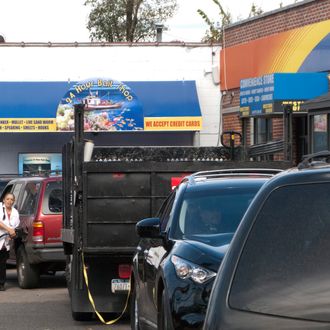 Photo: DON EMMERT/AFP/Getty
On Atlantic Avenue in Brooklyn last night, two gas stations across the street from each other had matching unruly lines, dozens of cars long, stretched in opposite directions and blocking traffic. NYPD vehicles flashed their lights and shouted orders over loudspeakers, receiving little, if any, response. One officer marched up to a car that looked to be cutting in line and gamely entered into a shouting match. Drivers left their cars unattended to peek at the pumps. Three hours later, close to midnight, the mess of cars looked even less orderly at one of the stations; the other was out of gas.
It's like that everywhere.
With public transportation coming back in bits and pieces, and not without snafus, New Yorkers and those affected by Hurricane Sandy in surrounding states are desperate to fill their tanks, lest they be forced to wait in a bus line, walk, or stay inside for yet another day.
"It's so crazy," a gas station manager in Bay Ridge told the Daily News. "Cars are pulling up and people are fighting each other. There is no gas around here," he said, estimating that he's sold 24 hours' worth of gasoline in three hours. "It's been so busy."
"I'm pretty pissed," said a woman who drove to Brooklyn from Staten Island to search, probably wasting more gas than she found. "We've already gone to four gas stations." Taxis and car services are struggling, too, Reuters reports, since about half of the stations in New York and New Jersey were closed yesterday. "We have no power. We have no gas," said a BP employee in Coney Island. "The only advice I can give to motorists is to get off the road."
Prices are pretty normal, for now at least:
The average price of gas in New York City was $3.93, up two cents from Tuesday and down six cents from a week ago, according to GasBuddy.com.

Patrick DeHaan, a GasBuddy analyst, said the region wouldn't see a spike in gas prices unless the Phillips 66 refinery in Linden, N.J., a major East Coast refinery, took more than a week to begin operating again.

The refinery, which was vulnerable to flooding, shut itself down over the weekend as a precaution before the hurricane.
But that's only if you can track it down and then survive the wait: