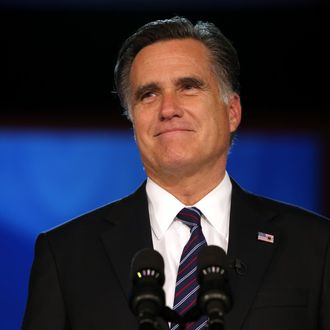 Photo: Justin Sullivan/2012 Getty Images
Though it seems hard to believe, in the past few days there have been multiple signs that Mitt Romney and other top Republicans truly didn't consider the possibility that they might lose. Romney reportedly didn't write a concession speech, planned to set off a $25,000 fireworks display in Boston Harbor on Election Night, and was ready to launch a transition site for President-Elect Romney. (Perhaps it was smart to be prepared, but the screen shots that accidentally made it online are just sad.) On Thursday, an anonymous adviser told CBS News that Romney was "shell-shocked" by the loss and said of the campaign, "I don't think there was one person who saw this coming." It seems the same was true of GOP party leaders. The Washington Post reports that they intended to start doing polls on Election Night "to immediately begin laying the groundwork for midterm congressional elections and a Romney 2016 reelection bid." Instead they're launching a massive two-month review to determine what went so wrong for the Republican Party.
"This is no different than a patient going to see a doctor," said RNC spokesman Sean Spicer. "Your number one thing is to say, 'I'm not feeling well. Tell me what the problem is. Run some tests on me.'" Much like a quick WebMD search, party leaders could just take a look at the many columns that explain they misjudged the electorate. The group that showed up to the polls this year was even more diverse than in 2008, and Obama had strong support from African-Americans, Hispanics, women, and young people. The Post reports that officials say they're "planning a series of voter-based polls and focus groups, meetings with constituency group leaders, and in-depth discussions with their volunteers, donors and staff members," to get to the bottom of the problem.
During the Obama campaign's final conference call with reporters on Thursday, David Axelrod said Republicans had "soul searching to do as to whether they're going to represent the United States of America as the United States of America is and not based on some 50-year-old model." However, if Republicans are planning to make a profound shift in the party, they aren't advertising it. "Party officials said the review is aimed at studying their tactics and message, not at changing the philosophical underpinnings of the party," reports the Post.
Republicans don't need polling to tell them that they can't afford to alienate Hispanic voters again, and some were already trying to make amends on Thursday. On his radio show Sean Hannity declared that he's "evolved" on immigration and now supports a "pathway to citizenship." Though the Republican Party platform opposes "any form of amnesty" for illegal immigrants, an aide to Eric Cantor told The Wall Street Journal that Republicans are ready to take up the issue, and know they must provide a plan for the 11 million people living in the country illegally. John Boehner told ABC News,  "A comprehensive approach is long overdue, and I'm confident that the president, myself and others can find the common ground to take care of this issue once and for all."
When asked in the same interview if the Republican Party is simply too old, too white, and too male, Boehner said, "What Republicans need to learn is: How do we speak to all Americans? You know, not just the people who look like us and act like us, but how do we speak to all Americans?" Presumably Republicans' polling data will help them figure out how to express that sentiment without making it sound like minorities are totally alien to the party.