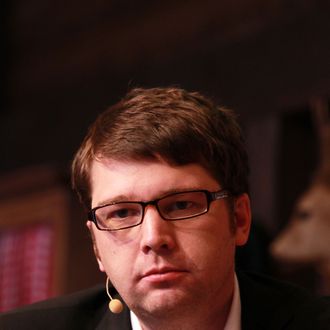 This man needs your help.
Photo: Johannes Simon/Getty Images
Guys! Buy more Groupons!

I know, you hit "mark as spam" on the e-mails a long time ago, and you haven't bought a Groupon since those home-brewing classes back in 2010. But the company could really use the help. Today, it reported a net loss of $2.98 million, and missed its estimated third-quarter sales. The company is laying off workers and its stock is down roughly 20 percent in the wake of the announcement, to its all time low.
Just how grim are things? On a conference call today, CEO Andrew Mason apparently said, "To understand the numbers you have to dig below the surface," which is business-speak for "I have nothing good to say right now."

Groupon has been struggling for a while now, and mocking its slide into obsolescence is no longer fun. So here is my earnest plea: If you've been holding out on getting that discounted dental appointment or Puerto Rican dinner, now is the time. Do it for Mason. Do it for the imaginary cats.
Update: An earlier version of this post stated that Groupon had missed both its third-quarter sales and earnings estimates. It missed only the sales estimates; earnings were stronger than analysts expected.