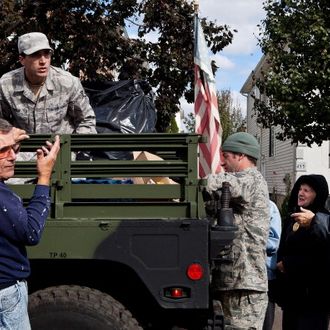 It's been a week days since Hurricane Sandy hit, and ConEd is finally turning lights back on and most subways and transportation links are up and running again. However, many parts of New York are still full-on disaster zones, with residents struggling as temperatures drop and relief trickles in (just take these pissed off Queens residents' word for it.) Whether you're in the area and looking for a way to help your neighbors, or elsewhere in the country and hoping to put your couch change to good use, there's plenty you can do to help the city get back on its feet. 
For the Occupy-minded: Donate your money or volunteer your time through Occupy Sandy, an affiliated group. They're also a great resource for drop-off and volunteer sites.
For the canvassers: The United Way is organizing a door-to-door drive in hard-hit Coney Island Monday through Tuesday.
For the healthy: Donate blood for the injured at your local New York Blood Center or America's Blood Center.
For the gastonomes: Check out this handy culinary-themed list of volunteer opportunities compiled by our sister site Grub Street.
For those with free time: Volunteer at a soup kitchen with the New York City Coalition Against Hunger (call 212-825-0028 ext. 211) or sort and box Rockaway-bound donations at La Puente's Williamsburg offices (e-mail stbernadetteconvent@gmail.com.)
For those with extra dollars: Text "Red Cross" to 90999 — their website seems to be down at the moment — or just give a donation to the Mayor's Fund to Advance New York City.
For those with extra stuff: A list of drop-off sites everywhere from Chinatown to Sunset Park, the Rockaways to Park Slope, Greenpoint to Red Hook can be found here and here.
For those willing to travel: Staten Island was home to nearly half of the 41 New Yorkers killed in the hurricane, the borough needs all the support it can get. Visit the Staten Island Recovers website to let needy residents and organizers know what you can give or volunteer.