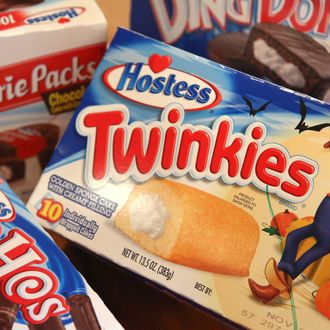 Photo: Scott Olson/Getty Images2012 Getty Images
When Hostess first announced its labor troubles were going to drive it to liquidation, a Twinkie bubble started forming in places like eBay, with people trying to flip boxes of the soon-to-be-extinct sweets for thousands of dollars. Then on Monday, Hostess and the union representing its bakers announced that they would go into mediation to work out a deal to save the company, and the Twinkie black market looked like it was going to crash. But on Tuesday evening, Hostess announced it had failed to work out a deal with the union, and that it would go back to bankruptcy court on Wednesday to try to get a judge's permission to close its doors, sell off its assets, and lay off 18,500 workers. Already, this is reflected in the rising price of Hostess snacks on eBay and Craigslist.
Hostess didn't say why the labor talks had failed, so it's not unreasonable to believe the announcement is a hardball negotiating tactic. But all the same, the news restarted a secondary market for Twinkies that some people apparently think will make them a considerable pile on the side. On Monday, after the talks got underway, boxes of Twinkies that had been offered for $8,000 were going for $25 to $30, and people were posting warnings to potential buyers that Hostess's liquidation had been averted. But by Tuesday night, somebody was already offering a box for $100. On eBay, a box went on sale Tuesday night for $12,000, a single pack wanted $10,000, and one box actually sold with a winning bid of $495.
When thinking about Twinkie-flipping as a get-rich-quick scheme, however, consider this line from the AP: "Even if Hostess goes out of business, its popular brands will likely find a second life after being snapped up by buyers." One such buyer has already come forward in the form of Sun Capital (whose CEO, Marc Leder, hosted that fund-raiser where Mitt Romney expressed his opinion on the 47 percent). So Twinkies almost certainly won't disappear, and the only reason to pay hundreds of dollars for a box of them would be if you're a snack-cake purist. Which is a contradiction in terms.
Update: Hostess's labor talks have failed, and the company is moving to lay off 15,000 employees as quickly as possible. The good news? The company says it has received a "flood" of inquiries from potential buyers.