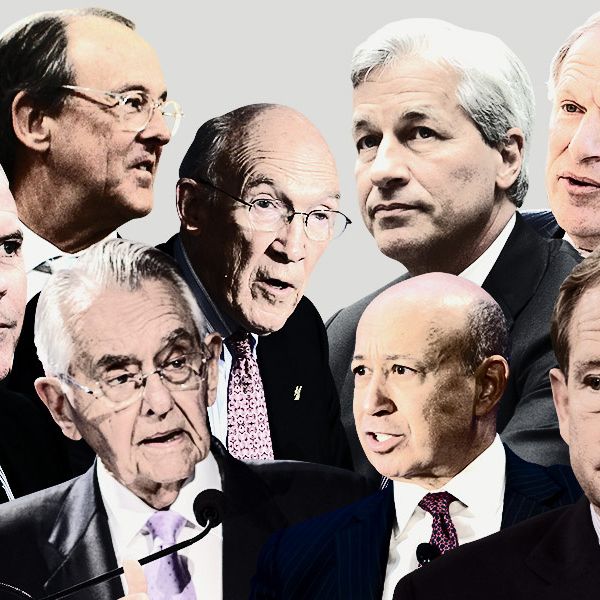 "You meet people, and you're all trying to work on something together. It's its own little think-tank."
"The beautiful thing about this is that, when you get a room full of incredibly bright people with compelling ideas together in a room, something good comes of that."

"We would lose people if we got more specific about our goals. We'd rather try to influence the overall broad parameters of what happens."

Quick: Which loosely organized, quasi-ideological faction came up with those lofty expressions of idealism?
If you guessed Occupy Wall Street, you were wrong. They came from recent interviews with top-level members of Fix the Debt, the high-minded confab of business elites that is pushing for bipartisan deficit reduction ahead of the so-called "fiscal cliff."
The Campaign to Fix the Debt, as it is properly known, is a four-month-old effort led by Alan Simpson and Erskine Bowles, the bipartisan duo who unsuccessfully tried to push a deficit-reduction scheme through Congress in 2010. With a reported $43 million war chest and the support of Peter G. Peterson, the Blackstone billionaire and leader of the deficit-scold movement, the group has been waging a nationwide media campaign meant to encourage President Obama and House Republicans to work together to avoid the expiration of the Bush income tax cuts and get long-term spending under control.
At its top levels, Fix the Debt has quickly morphed into a massive business kaffeeklatsch — a stateside Davos, with fewer panels on green energy and more talk of baselines and dynamic scoring. The organization's "CEO Council" now consists of roughly 150 executives, many of them recognizable names from Wall Street's upper echelons. The leaders of Goldman Sachs, JPMorgan Chase, Morgan Stanley, Bank of America, and Citigroup are all in, as are a number of well-known investors like Bill Ackman and Bain Capital's Josh Bekenstein. Members of the group have a multitude of reasons for getting involved — real concerns about the deficit, a desire to make their voices heard in Washington, and, for some, a chance to hop on a growing bandwagon filled with A-list peers.
The single-minded mobilization of Wall Street's finest raises a question: How, exactly, did this group of corporate chieftains assemble?
Fix the Debt prefers to keep its behind-the-scenes operations under wraps. Most on-the-record comments are a mishmash of platitudes about shared sacrifice and working together for the good of the country. But interviews with a number of organizers and CEO council members point to a massive networking effort among one-percenters — one that relies on strategically exploiting existing business relationships and appealing to patriotic and economic instincts.
The roots of the movement were planted last September, at a series of private dinners held at the home of Virginia Senator Mark Warner, and hosted by Maya MacGuineas, the president of the Committee for a Responsible Federal Budget. In attendance were budget experts like Alice Rivlin and politically active CEOs including David Cote of Honeywell and Mark Bertolini of Aetna. MacGuineas, a longtime Peterson ally, told the CEOs that their help — along with the support of small-business leaders and private citizens — could help steer the conversation about the deficit in a way that could essentially save the economy from Washington's gridlock.
When Fix the Debt was officially launched in July, it had a working budget of about $3 million, and the most visible talking heads were the group's centrist political figures: Simpson, Bowles, Pennsylvania Governor Ed Rendell, and former New Hampshire Senator Judd Gregg. MacGuineas was the official spokesperson. But that changed as Cote, Bertolini, and other early organizers like BlackRock chief Larry Fink began reaching out to their fellow business titans, setting up small lunches and dinner meetings, and bringing new recruits into the fold. Executives recruited their friends, board members, and clients, who then dug into their own networks on the group's behalf. "CEO Tools" were given to members to use in pitching the Fix the Debt platform, including sample letters to employees and Powerpoint decks to "communicate the debt story in a visual way."
A vast and powerful fund-raising machine emerged. Cote and other non-bank CEOs targeted their peers in the Fortune 500, while Simpson and Bowles leaned on their various political and corporate connections (Bowles, a board member of Morgan Stanley, is said to have gotten the bank's CEO, James Gorman, in the mix). Steven Rattner and James B. Lee, Jr., it was decided, would head up the Wall Street push.
The choice of Rattner and Lee as Fix the Debt's main financial industry recruiters was an indicator of the group's division-healing ambitions. Rattner — an Obama administration auto czar, Bloomberg consigliere, and former private equity executive — had the Democratic bona fides to woo left-of-center financiers. "Jimmy" Lee, the vice chairman of JPMorgan Chase and right-hand man to CEO Jamie Dimon, had a golden Rolodex and an ability to get Republicans on board. The two had butted heads on deals before (most notably, during the 2009 Chrysler bailout, when Rattner represented the government and Lee negotiated on behalf of Chrysler's creditors). But now they would work together to shoehorn their Wall Street connections into the movement and get them not only to contribute their time, but their cash as well.
"Maya came to me and said, 'I've got a $3 million budget," Lee says. "And I said, 'Maya, it costs a billion dollars to run for president. Where's $3 million going to go?'"
While Rattner began touting the group's aims on cable TV shows, Lee formed a team of government-relations types and began working the phones. "Steve and I are running it like a deal," Lee says. "We've got a syndicate book, if you will — who's spoken to who, how much they've contributed."
Soon Wall Street machers — some of whom had been major supporters of Mitt Romney and were looking for a way to recover their Washington influence after Romney's election loss — were tripping over themselves to contribute to the cause. Rattner and Lee, along with Cote and other members of the Fix the Debt steering committee, raised tens of millions in a matter of weeks.
"Jimmy's very persuasive," said one Fix the Debt recruit. "He's very good at getting a good group of people together in a room, talking about good ideas."
"These phone calls take about a minute when you explain what you're doing," Lee told me. "It doesn't matter if you're talking to a Democrat or a Republican — they say, 'where do I sign?'"
Not all of the chieftains' pitches worked, though. Lee tried and failed to persuade Blackstone co-founder Steve Schwarzman to join the cause, according to one insider. President Obama's longtime allies on Wall Street — hedge fund manager Marc Lasry, Evercore Partners founder Roger Altman, and former UBS banker Robert Wolf, among others — are conspicuously absent from the CEO council. And, for reasons having more to do with the gender makeup of the Fortune 500 than the appeal of deficit hawkery, the group has had trouble making inroads with female executives.
"We're a little short on women," one recruiter sheepishly admitted.
But many of the business bigwigs signed on. Jamie Dimon, Lee's boss, agreed to host a pair of Fix the Debt–themed lunches at JPMorgan's Park Avenue headquarters, and appear with Bowles and Goldman Sachs CEO Lloyd Blankfein on CNBC in mid-October to make the case for a grand bargain. (That appearance so impressed CNBC's top brass, according to a source close to the network, that they decided to blanket the airwaves with a channel-wide, Fix the Debt–inspired marketing campaign called "Rise Above.") Blankfein became part of a corporate coalition that has made multiple lobbying trips to Washington, including a trip to the White House this week to meet with President Obama.
"These CEOs are supporting the effort more than financially," MacGuineas said. "They're willing to do the work."
Fix the Debt's impressive growth is easy to understand as a social phenomenon, especially given the various personal and professional webs that have connected many of its members for decades, and how little up-front investment is required of new joiners. It's not hard to imagine that when Rattner, Lee, or one of your biggest corporate clients is on the phone, twisting your arm for a small check and your support, the potential costs of not participating make saying yes a no-brainer. In addition to being a powerful political force, Fix the Debt is also an elite hobnobber's paradise.
"We have these great dinners," raved one relatively new member, who says he has met a number of CEOs for the first time through his work with the group. "Everyone has been throwing out ideas about how to get the message to a broader audience."
But even as Fix the Debt increasingly resembles a networking event with a vague political gloss, many of these CEOs have concluded that a federal impasse on deficit reduction poses serious risks to their businesses and the broader economy. Rightly or wrongly, they genuinely believe that their corporate acumen makes them well-suited to determine what is best for America as a whole. If you can analyze a billion-dollar term sheet with a gimlet eye, they imagine, it shouldn't be that hard to balance a federal budget in a way that protects future generations from an all-out debt crisis.
"It's really not a political thing," one steering committee member told me. "These guys all look at the numbers, and they see that the country's entitlement programs and demography are headed for a crash."
Not everyone thinks Fix the Debt is acting in good faith. In recent days, the group has aroused the suspicion of groups on both the left and the right, who see in it a pro-business ideological movement masquerading as aisle-crossing diplomacy. Critics have accused the group's CEO leaders of acting in their economic self-interest by laying groundwork for lower corporate taxes and deep cuts to entitlement programs that primarily benefit the working and middle classes. After a meeting with Fix the Debt members, House Speaker John Boehner said in a statement, "One thing Republicans won't be party to is a deal that protects big businesses and preserves special-interest tax breaks while raising tax rates on the small businesses." (Fix the Debt says Boehner's statement is consistent with its mission.)
And even though Fix the Debt makes no specific proposals for entitlement cuts, groups that want to protect Medicare, Medicaid, and Social Security — Peterson's lifelong bêtes noires — are howling.
"Fix the Debt is a PR campaign that appears as a very sensible, very bipartisan effort. But at its core, all of it is window dressing for a very ideological, partisan policy position, which is the destruction of Social Security," Alex Lawson, the executive director of Social Security Works, told me yesterday.
Whether Fix the Debt will ultimately succeed in bringing about a grand bargain before the fiscal cliff is anyone's guess. Most likely, Congress and President Obama will hash out some sort of arrangement that allows them to claim credit for any bargain that includes new tax revenue and entitlement reform, no matter the exact details or timing. And what then? Will this massive, mobilized group of powerful business executives just vanish back into their corner offices? Like kids approaching the last day of summer camp, some members sound like they want to keep the movement alive even after a deal is struck.
"I don't know," Lee said, when asked about the group's future. "Maybe we tackle some other issue of national importance, like making the Boston Red Sox a contender again."