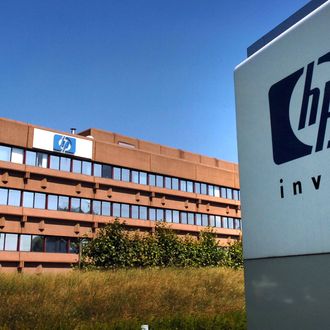 One if by land, two if by accounting fraud.
Photo: YVES BOUCAU/AFP/Getty Images
One time I bought some guy's bike on Craigslist for $20.
I was young and naïve, and when I saw the bike listed and it looked pretty good in the photos I thought, Wow! What a deal! And then I bought it and rode it for about a day, after which point, the bike completely fell apart. (Of course.) In the next month, I spent several hundred dollars fixing and replacing various components, and then the $20 bike no longer seemed like such a good deal.
That's kind of what happened today to Hewlett-Packard today.
In a conference call this morning, HP announced it had taken an $8.8 billion accounting charge on the acquisition of Autonomy, a British software-maker it acquired for more than $10 billion last year. The charge, HP CEO Meg Whitman said, was related to accounting tricks and "outright misrepresentations" at Autonomy, which made the company appear much more valuable than it actually was. HP began investigating the shady accounting after a senior Autonomy executive came forward to confess it had been cooking the books, according to Bloomberg.
HP, which has been a perpetual struggle machine for several years now, didn't need this latest setback. Sales have been falling, CEOs have been rotating through the corner office, and the company's stock has fallen more than 50 percent in the past year. It's now down an additional 10-plus percent in premarket trading.
The Autonomy charge may also spell trouble for the auditing firm involved, Deloitte, which went through Autonomy's financials before the HP acquisition and didn't find anything suspicious. HP said today that it has referred the matter to the U.K.'s Serious Fraud Office, which sounds like something out of Monty Python but is in fact a regulatory agency charged with investigating complex corporate shenanigans.