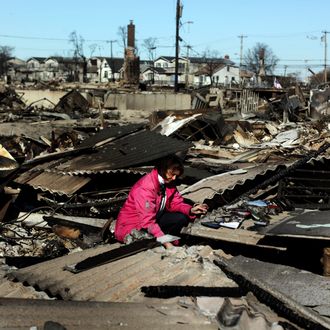 Kathy Lahey sifts through her damaged home for items to save November 4, 2012 in the Breezy Point neighborhood of the Queens borough of New York City. With the death toll currently over 100 and millions of homes and businesses without power, the US east coast is attempting to recover from the effects of floods, fires and power outages brought on by Superstorm Sandy.
Photo: Allison Joyce/Getty Images
Officials have now
attributed
97 deaths to Hurricane Sandy "within a 65-mile radius of New York City, in an area that stretched across New York, New Jersey and Connecticut, from Burlington County in New Jersey to Suffolk County on Long Island to North Salem, N.Y., in Westchester County." Nearly half the casualties were age 65 or older. Of New York City's 43 deaths, 34 victims were in Queens and Staten Island, many of whom drowned during the
storm.