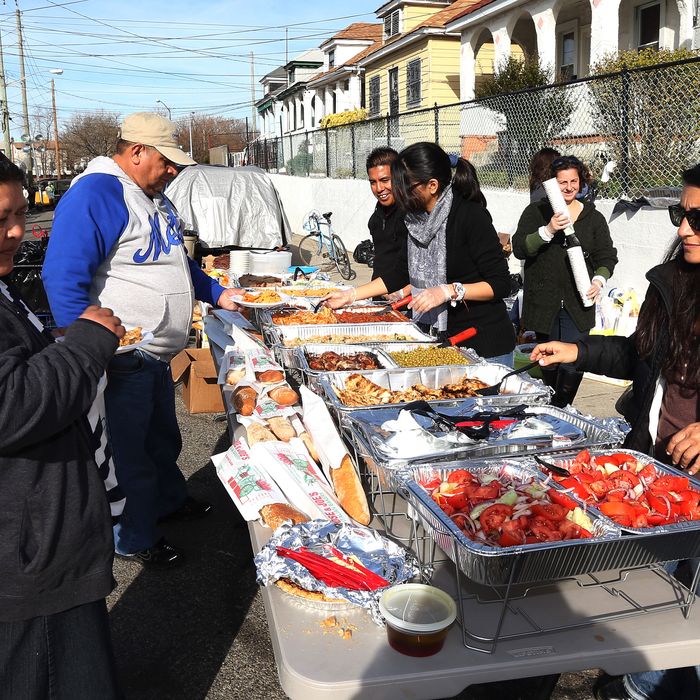 Photo: Bruce Bennett/Getty Images
Three weeks after Hurricane Sandy tore apart homes and families comes a holiday that's all about togetherness. In places like Staten Island and the Rockaways, the recovery has only just begun, but Thanksgiving won't be canceled so much as adjusted for the circumstances. With the help of aid groups like Occupy Sandy and the Red Cross, plus the generosity of neighbors and extended family, no one should be deprived a hot meal tomorrow.
"We're thankful we're together and we didn't go to a funeral," Kate Rigaut of Red Bank, New Jersey, told AM New York. She and her family will be spending the holiday with her sister, who "is hell-bent, she's having Thanksgiving come hell or, this year, literally, high water. But it doesn't matter whose house it is, it's that we're together," Rigaut said. "We'll hold each other up, and we'll get through this."
"It's bittersweet," added a woman whose home in Rockaway was destroyed, "but to surround myself with familiar faces and friends and families and seeing their faces and know they're okay, that's what I'm thankful for."
Declarations of strength and optimism are common among the displaced. "It's the first time in a very long time it won't be in my house," 67-year-old Lorna Spiro said in the Wall Street Journal. Her Long Beach home is uninhabitable, but she's moved the meal to Mitchell's Diner in Oceanside. "And it makes me feel very sad. But otherwise I'm thrilled everyone is healthy, and we'll be together, meeting at the diner."
Charity efforts range in scale, but stretch from Coney Island to all across New Jersey. At Brooklyn's Gravesend Houses, which flooded, "preparations are under way this week for a makeshift Thanksgiving dinner" that will feed at least 350 residents. The roundly praised Occupy Sandy contingent will host a free feast tomorrow afternoon at St. Marks Church in Manhattan, while the Red Cross plans to serve 35,000 hot meals to those in need. Lowe's stores, the Journal reports, are getting things starting today, with the distribution of 22,000 meals from Boston Market to those affected by the storm.
"My house is gone along with basically everything I owned, but I am gonna have turkey on Thursday," said Rigaut, whose positivity is flat-out inspiring. "What more could I ask?"
For the lucky ones, a map of volunteer opportunities in New York can be found here.