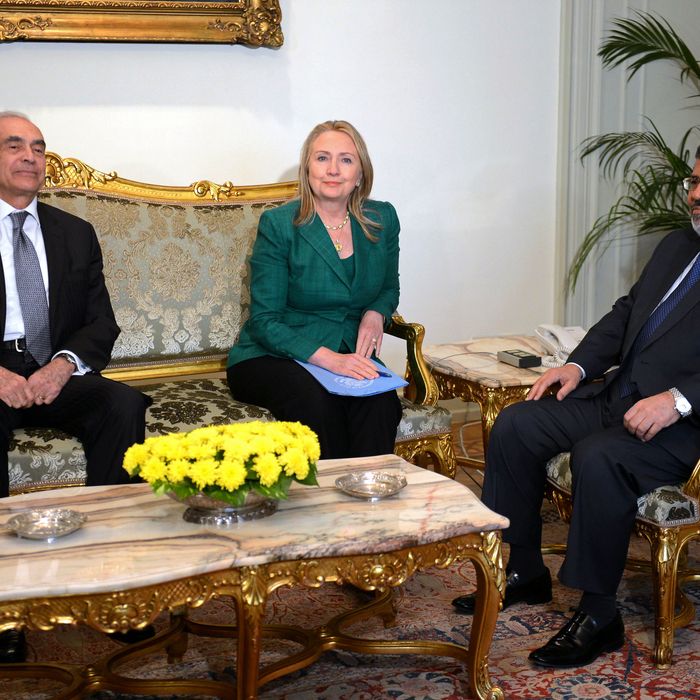 Hillary Clinton, along with Egypt's foreign minister (left) and president (right).
Photo: KHALED DESOUKI/AFP/Getty Images
After eight days of fighting in which nearly 150 people (almost all of them Palestinians) have been killed, and following some premature reports of a deal yesterday, Israel and Hamas have officially agreed to a cease-fire. In a press conference a short time ago, Secretary of State Hillary Clinton and Egyptian Foreign Minister Mohamed Kamel Amr announced that the cease-fire will begin at 9 p.m. (2 p.m. Eastern time), at which time Israel will halt military strikes in Gaza and Hamas will end its rocket barrage into Israel. Further details on what the cease-fire would entail are unclear.
Egypt is "assuming responsibility and leadership" for the agreement, according to Clinton. But the United States also played a key role. According to the AP, "Israeli Prime Minister Benjamin Netanyahu confirmed the deal, saying he had agreed after consulting with President Barack Obama." In a statement, the White House made sure to take some credit:
President Obama spoke to Prime Minister Netanyahu today and reiterated his commitment to Israel's security.

The President made clear that no country can be expected to tolerate rocket attacks against civilians.

The President expressed his appreciation for the Prime Minister's efforts to work with the new Egyptian government to achieve a sustainable ceasefire and a more durable solution to this problem.

The President commended the Prime Minister for agreeing to the Egyptian ceasefire proposal — which the President recommended the Prime Minster do — while reiterating that Israel maintains the right to defend itself.
Finding "a more durable solution" is the key. As Clinton said in her press conference, "There is no substitute for a just and lasting peace."