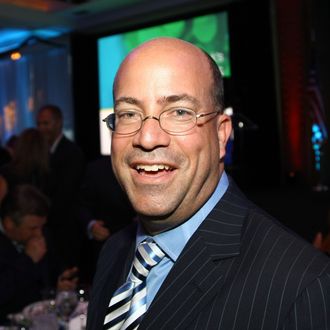 Photo: Neilson Barnard/2009 Getty Images
As expected, CNN has named former NBC honcho Jeff Zucker as its new president, beginning in earnest the network's attempt to compete again in the cable news Colosseum. ("Ailes on one side, Zucker on the other: Game on," MSNBC president Phil Griffin told the Times.) Of his return to news, Zucker said, "Outside of my family and the Miami Dolphins, there is nothing I am as passionate about as journalism. I spent the most rewarding years of my career as a journalist, and it's where I look forward to spending many more." Now comes the hard part.
"When Jim Walton announced his intention to step down at the end of the year, he specifically said that CNN needed 'new thinking' to build upon our existing strengths and strong legacy," said Turner Broadcasting CEO Phil Kent in a statement. "Jeff will provide that, and while he has enormous respect for our organization and brand, I expect that he also will challenge our thinking — yours and mine — in a very healthy and inclusive way."
Zucker also got a hearty, if self-interested, congratulations (kiss of death?) from the one and only Donald Trump, who tweeted, "Great move by CNN if they sign Jeff Zucker. He was responsible for me and The Apprentice on NBC—became #1 show!" So that's something to look forward to.