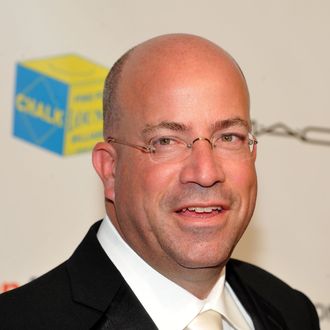 Jeff Zucker.
Photo: Mike Coppola/2011 Getty Images
Rumors about former NBC Universal head Jeff Zucker taking over as head of CNN Worldwide started almost as soon as current president Jim Walton announced this summer that he would be stepping down at the end of the year. Now sources tell multiple news outlets that the deal is nearly done and we should expect an announcement about Zucker's new role as early as this week. If Zucker is in fact abandoning his position as executive producer of Katie, Katie Couric's daytime talk show, he'll be facing a Herculean task at CNN. While the company as a whole is poised to have its most profitable year ever, its flagship network in the U.S. has been sagging in the ratings. To stay competitive, Zucker will have to forge a new identity for CNN that's something more than "not MSNBC or Fox News."
"They don't want to be Fox and they don't want to be MSNBC. Fine. But 'neither nor' is not an identity," media critic Jay Rosen told the New York Times, echoing the criticisms many have for the middle-of-the-road network. "It can't tell you what talent to hire, or what programs to try. They keep circling around the answer: declare jihad on the talking points and make that your identity, along with on-air fact-checking."
Many have been floating theories recently on how CNN can save itself, and every expert consulted by the Times said the answer is providing more serious journalism. David Bohrman, a former CNN executive who now works at Current TV, said the channel needs to "go back to some of the goals of the past," like providing excellent news coverage. Tom Johnson, who led CNN in the nineties, said the network should position itself as "The New York Times of television news — not the New York Post or the National Enquirer. Do not attempt to outfox Fox."
Even CNN CEO Jeff Bewkes has referred to the channel as "one area of challenge" at the company and indicated a hope it "can do a better job of tracking and retaining audience when news isn't breaking." When Walton left, he called for a "new leader who brings a different perspective, different experiences and a new plan, one who will build on our great foundation and will commit to seeing it through."
Zucker taking the lead may not be a good sign for those who want to see a more highbrow cable news network. CNN was already rumored to be shopping for flashier on-air personalities and considering ideas for reality programs. Since Zucker made a name for himself as a Today show producer, kick-starting the show's sixteen years as the top-rated morning news show, it isn't hard to imagine him leading CNN's revamp as a more entertainment-driven news network. That strategy might not please the critics, but transforming Wolf Blitzer and beard into America's most lovable co-anchors could give CNN the ratings bump it needs.
This post has been updated throughout.