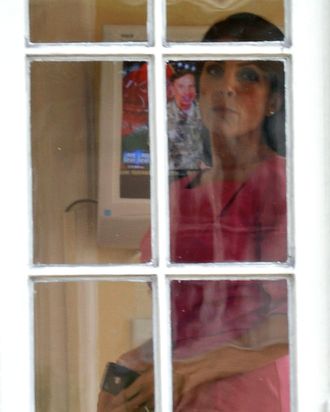 Jill Kelley looks out the window of her home as Gen. David H. Petraeus is seen on the television in the background on November 13, 2012 in Tampa, Florida. Kelley, who is reported to be involved with the military community at MacDill Air Force Base, reported receiving harassing emails to the FBI, which resulted in an investigation that revealed the sender to be Paula Broadwell, who was found to be having an affair with Gen. David H. Petraeus.
Photo: Tim Boyles/Getty Images
The AP reports that Kelley and her sister were "guests of a mid-level White House aide," which should not be surprising because, as we are fast discovering, this random Tampa lady is friends with everyone of any kind of importance.