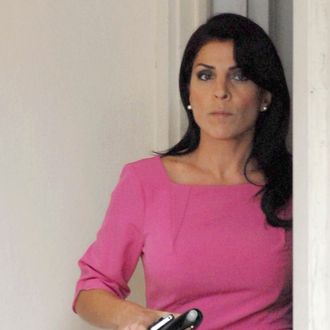 Jill Kelley.
Photo: Tim Boyles/2012 Getty Images
After remaining silent since the Petraeus scandal first broke, Tampa socialite Jill Kelley has dispatched her top-tier legal/PR team for the first time. On Tuesday Kelley's lawyers attacked a businessman who accused her of being incompetent as a negotiator with the South Koreans, a lawyer who told the press she's a name-dropper, and the U.S. attorney in Tampa. Kelley's attorney, Abbe Lowell, accused federal officials of leaking her name and details about the investigation, and threatened to sue if any other information comes out. In a letter to the Tampa U.S. attorney, Lowell asked if "the Department of Justice is investigating these leaks and potential infringements upon the Kelleys' privacy … as part of its current work." Around the same time, the New York Times published a report that contains more leaks about the investigation into Kelley's e-mails, so it would appear that the answer is no.
According to the Times, federal investigators already have their hands full with the case. There are about fifteen people working seven days a week in the Pentagon inspector general's office to get to the bottom of the potentially "inappropriate communication" between Kelley and General John Allen. Normally there are two to three investigators assigned to a case and the process takes about seven months. For some reason, even with five times as many people devoted to the case, investigators say they probably won't wrap things up before the end of the year.
They've already accomplished what one might think would be the hardest part: whittling down what was reportedly 20,000 to 30,000 pages of communication to 60 to 70 e-mails that "bear a fair amount of scrutiny," as a defense official put it. It doesn't sound like it should take more than an afternoon for the team to interpret Allen's use of words like "sweetheart" in a few dozen e-mails, but the official explains, "People have to go through and decide if they fit one of three potential violations." These range from security breaches to inappropriate use of government property to adultery.
In the meantime, Kelley is keeping busy by going after those who have publicly attacked her. Her lawyers sent a cease-and-desist letter to New York businessman Adam Victor, who said Kelley dropped the ball after telling him she could help him make deals with the South Korean firms Samsung, Hyundai, GS, and GK. "It's not a crime to be a novice," Victor told the AP. "I don't know why they are talking to me." Kelley also complained to the Florida bar about attorney Barry Cohen, saying he violated attorney-client privilege by telling the media about conversations they had when he was representing her in 2009. "No matter how many high-priced lawyers and publicists she employs, she has been exposed for what she is," he said. And the same goes for lawyers who hold press conferences to tell the world that their former client is a social climber.