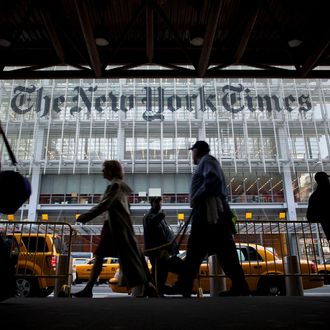 Photo: Bloomberg/2011 Bloomberg
Jodi Rudoren, the Jerusalem bureau chief of the New York Times, will "work closely" with an editor on her social media posts from now on, public editor Margaret Sullivan announced today, after Rudoren's Facebook musings during the Gaza conflict set off a bunch of old-school bias sensors. "The idea is to capitalize on the promise of social media's engagement with readers while not exposing The Times to a reporter's unfiltered and unedited thoughts," wrote Sullivan about the extra layer of protection for what may be the most precarious and closely watched position on staff.
Along with her actual newspaper reporting during the violence, which Sullivan said contained "sophistication and nuance," Rudoren updated her Facebook with notes about Palestinians' "limited lives" and "ho-hum" reaction to death. She also said she cried over a letter from an Israeli family. "I just wasn't careful enough," Rudoren admitted to Sullivan.
The trouble began for Rudoren before she even started her hot-button job: Tweets she sent upon being named to the post were also accused of being biased, but in the opposite direction, against Israel. "I absolutely will be more careful," she told Politico at the time. "But it's not being careful that people won't find out what I really think, it's about being careful to be fair. That is what my mission is doing the job."
Whether or not she sees the assignment of a personal watchdog as a punitive measure or a relief, the singling out of Rudoren indicates that the paper may, in fact, care about people finding out what she thinks. "Do Ms. Rudoren's personal musings, as they have seeped out in unfiltered social media posts (and, notably, have been criticized from both the right and the left), make her an unwise choice for this crucially important job?" Sullivan wondered before dubbing Rudoren's published work solid.
"You are wrong in describing this as 'punitive,'" said Times spokesperson Danielle Rhoades Ha. "It isn't. Editors here, including our social media team, work with a whole range of Times journalists to help them use social media effectively."
But the larger issue at play is the Times' commitment to the spirit of objectivity, a charade that gets harder to keep up as reporters are allowed — and encouraged! — to sound off on various platforms constantly, interact with readers, and work out ideas in public forums. The question is where the line gets drawn. While the appearance of neutrality is apparently prioritized when it comes to controversial topics like the Middle East, the editing of words never published in the paper sets a problematic precedent when it comes to resources. Preemptively policing every stray social media thought from a massive staff expected to be plugged in is just not possible.
Update: Rudoren writes to Daily Intel, "I don't think it's punitive; I think it's constructive and cautious. They could have just told me to stop altogether, but we all really believe in embracing social and other new media, and just realize that, especially in this highly scrutinized and polarized terrain, it's a sensitive and complicated business. So we're going to try a different way and see how it goes."