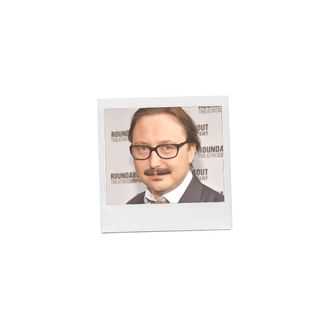 Name: John Hodgman
Age: 41
Neighborhood: Park Slope
Occupation: Writer, Actor, Resident Expert, Unappointed Judge, Doomsday Prophet. His book That is All is now available in paperback and audiobook, and on December 21, he'll be performing at an End of the World–themed show at the Bell House, where he also promises to shave off his mustache.  
Who's your favorite New Yorker, living or dead, real or fictional?  
Kenny Shopsin is perhaps the only New Yorker I know who is actually from New York, along with all his children, whom I adore (please, please read Tamara Shopsin's amazing forthcoming book, Mumbai New York Scranton).
What's the best meal you've eaten in New York?
Whatever soup I was having when Kenny Shopsin took my baby out of my hands to carry her into the kitchen. It was the first time she left my line of vision, and even though I did not know Kenny well then, I did not say anything. I trusted him somehow and did not want to be yelled at. I don't know what happened in the kitchen. I presume he showed her how to operate the deep fat fryer; but when she came out, she was from New York. 
In any case, it was probably some kind of Thai curry soup, as that is what I was into at that time. 
In one sentence, what do you actually do all day in your job?  
I have been performing comedy on the American road, so most days I spend in an anxious haze in a tube of humans above the Earth before the brief fever dream of happiness while onstage, and thereafter, drinks; on Daily Show days, I try to stay out of the way and eat as many free breakfast sandwiches as I can before the brief fever dream of happiness on television, and thereafter, the never-ending feeling of incredible luck; on days between, I spend the whole day trying to write one sentence; this counts as one sentence, by the way, because: semi-colons; and also: colons (and parentheses).  
What was your first job in New York?  
Cutting out pages of David Mamet's Oleanna from a book and scotch-taping them to blank printer paper for St. Martin's.  
What's the last thing you saw on Broadway?  
Seminar with Justin Long and Jeff Goldblum, because I only see plays featuring people who were in Apple commercials, and because I love Justin Long and I don't care who knows. I am desperate to see Bobby Cannavale in Glengarry Glen Ross and Paul Rudd in Grace, so I hope they do some Apple commercials soon. 

Oh: MICHAEL SHANNON is also in Grace — what if he were in an Apple ad? NELSON VANALDEN FOR iPAD MINI. 
Do you give money to panhandlers?  
I generally do not, but I will give to anyone who plays a musical instrument of any kind. 
What's your drink?  
Plymouth gin martini with a twist, either at home or at Talde in Park Slope, because they take such wonderful pity on me. 
How often do you prepare your own meals?  
If spreading butter on crackers while making martinis counts, about 1,000 times a week. 
What's your favorite medication?  
Ventolin, because I enjoy breathing . 
What's hanging above your sofa?  
A poster explaining the life cycle of the bumblebee in French. 
How much is too much to spend on a haircut?   
One dollar per hair is where I max out. 
When's bedtime?  
1 a.m. 
Which do you prefer, the old Times Square or the new Times Square?  
By old Times Square, do you mean porny Times Square? Or the old Times Square when everyone was nostalgic for the romance of porny Times Sqaure. Because, honestly, both feel so remote now that I barely remember either. 
What do you think of Donald Trump?
For a long time, I was amazed that he had willingly transformed himself in a cartoon of a rich person — the Rich Uncle Pennybags of America's giant Monopoly game. But after election night, I now wonder if he is okay. 
What do you hate most about living in New York?   
There used to be so much when I moved here, but seeing the city pull itself together time and time again after every tragedy, upheaval, and, most recently, superstorm, I can't say a bad word against it. Civilization works. 
Who is your mortal enemy?  
Craig Kittles. He knows why. 
When's the last time you drove a car?  
This morning. I drove it to be inspected. I was asked when was the last time I had the oil changed. I blinked slowly three times. 
How has the Wall Street crash affected you?   
Now I am concerned that I have been sitting on this questionnaire since 2008. Am I that overdue? I never had any money to put into anything other than food for my big fat mouth until I was on television, and a lot of what I then put in got taken away, and so now I hoard beef jerky and urine and mayonnaise — the currency of the post-2012 economy. 
Times, Post, or Daily News?  
Nate Silver. 
Where do you go to be alone?  
The F train in the middle of the day, listening to the previous week's "The Best Show on WFMU," while staring into space = nirvana. 
What makes someone a New Yorker?  
Either a deep fat fry baptism by Ken Shopsin when you are a baby or the willingness to stick it out. The truth is, life is lived just as happily, and an awful lot easier, in a lot of other places. But there are so many joys here, both grand and simple, and to persist in loving them year after year — that requires a kind of insane stubbornness that I don't think exists anywhere else.