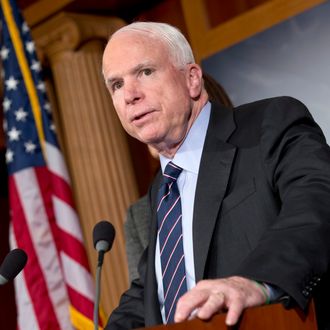 Photo: J. Scott Applewhite
John McCain was slightly less crotchety than usual during his morning appearance on Fox News Sunday. First, he softened his months-long stance on the United States ambassador to the United Nations, Susan Rice, who he has relentlessly criticized for the statements she made in the wake of the Benghazi attack, which she initially blamed on a spontaneous protest — as opposed to a planned act of terrorism — because the CIA told her that was the case. McCain had previously said he would block Rice's nomination to replace Hillary Clinton as secretary of state, but today he told Chris Wallace that he'd "give everyone the benefit of explaining their position and the actions that they took." He added, "I'd be glad to have the opportunity to discuss these issues with her."
McCain's possible new willingness to budge on the issue might have something to do with Rice's recent defense of her statements. On Wednesday, she addressed the supposed controversy publicly for the first time, saying that she had relied "solely and squarely on the information provided to me by the intelligence community." She added that the information was "preliminary" at the time, and that, "Everyone, particularly the intelligence community, has worked in good faith to provide the best assessment based on the information available." As our own John Heilemann just pointed out, President Obama's unwavering support of Rice — coupled with the consensus that she did nothing wrong — mean that McCain's battle against her is clearly a losing one.
The Arizona senator also joined fellow Republicans Lindsey Graham and Peter King in acknowledging the need for higher tax revenues to avoid the fiscal cliff. He suggested that closing loopholes like deductions for charitable giving and home loan mortgages might be one solution, though he maintained that he is "very much opposed to raising tax rates" themselves. When challenged by host Chris Wallace, who pointed out that he once seemed to favor higher taxes for the rich, McCain played dumb. "Every economist that I respect says if you raise tax rates at this time, in fact, the president even said that a couple of years ago, it harms the economy…Unless I can be convinced that raising tax rates will be beneficial, then obviously I think there's reason and ground for my position." However, he added, "I also believe that we can and must get an agreement, otherwise I think first of all, the markets are going to start reacting."
Finally, he talked about the Republicans' much-discussed failure to win over women, minorities, and young voters during the election. "There is no doubt whatsoever that the demographics are not on our side," McCain said. "We have to have a bigger tent. No doubt about it. And obviously we have to do immigration reform." Last but not least, he called for the GOP to decrease its focus on destroying reproductive rights: "I don't think anybody like me – I can state my position on abortion, but other than that, leave the issue alone when we are in the kind of economic situation, and frankly, national security situation that we're in." There's the maverick we remember, sort of.