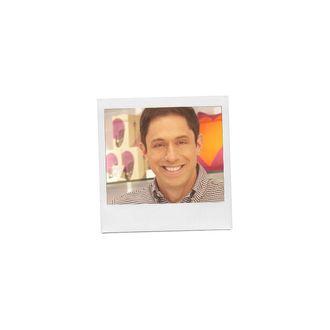 Photo: Courtesy Jonathan Adler
Name: Jonathan Adler
Age: 46
Neighborhood: The Village
Occupation: Maker; He'll be discussing his new book 100 Ways to Happy Chic Your Life with his husband (and Barneys creative ambassador at large) Simon Doonan, tomorrow, November 8, at 92YTribeca. A book signing follows.
Who's your favorite New Yorker, living or dead, real or fictional?
Simon Doonan! He is a New York ideal — creative, self-made, hilarious, eccentric, life-enhancing. And adorbs!
What's the best meal you've eaten in New York?
Roast chicken at the Odeon in 1988 when I was in college. I saw how fun and creative and delicious life in New York could be. I decided at that moment that I would move here.
In one sentence, what do you actually do all day in your job?
I make pots, design stuff, work hard, laugh a lot, and feel very, very lucky.
What was your first job in New York?
I worked at DF Sanders on Madison Avenue in 1987 hawking housewares as a summer job. I learned the magic of retail.
What's the last thing you saw on Broadway?
I literally cannot remember the last time I went to a Broadway show. Embarrassing. Maybe Dame Edna about five years ago?
Do you give money to panhandlers?
I pick my peeps. There was a dude on my corner who I gave $5 to every day and he was very sweet and a neighborhood fixture and he just disappeared last spring. I fear the worst. But I will never know what happened to him.
What's your drink?
A Jonathan Adler! Iced tea with milk — I'm trying to have a drink named after me, kinda like an Arnold Palmer. Am sure it will catch on eventually.
How often do you prepare your own meals?
I cook a lot on the weekends. My husband is a crunchy macro lesbian when it comes to food so I cook him lots of wholesome fare.
What's your favorite medication?
This is like Sophie's Choice! How can I choose just one? I guess I'd have to go with a classic: Xanax. It  takes the edge off.
What's hanging above your sofa?
A photo-realist portrait of our dog, Liberace, painted by the brilliant Scott Lifshutz.
How much is too much to spend on a haircut?
For a dude I'd say 40 bucks. For a woman — there is no limit.
When's bedtime?
11:30.
Which do you prefer, the old Times Square or the new Times Square?
Old Times Square! I love to watch Midnight Cowboy and see the sordid kaleidoscope of Times Square in the seventies. Bananas.
What do you think of Donald Trump?
I think first of the gorgeous hairdo, that apricot meringue of hair plopped on his head. And I think that his apartment must smell of chlorine, like an indoor swimming pool, because of all the fountains. And I think that he's eccentric and provocative and hilarious and I'm glad he exists.
What do you hate most about living in New York?
I hate that most socializing is done for business reasons. I grew up in a farm town and when my parents had or went to a party it was because they were seeing friends, not business associates. New York socializing is too agenda-encrusted.
Who is your mortal enemy?
I loathe anyone who comes between me and my food. I am prone to bouts of hanger (hunger/anger) and I get quite testy if a meal is delayed. Otherwise I'm kinda unflappable. 
When's the last time you drove a car?
Five minutes ago. I use my car a lot.
How has the Wall Street crash affected you?
I'm very lucky. My business has grown a lot over the last few years. As my grandmother would say, Kinahorah!
Times, Post, or Daily News?
Sophie's Choice again! I read the Times and the Post cover to cover every day.
Where do you go to be alone?
Do I look like Greta Garbo? I hate to be alone. I am almost never alone. 
What makes someone a New Yorker?
The great thing about New York is that we take everybody. You just have to declare it and it is so.