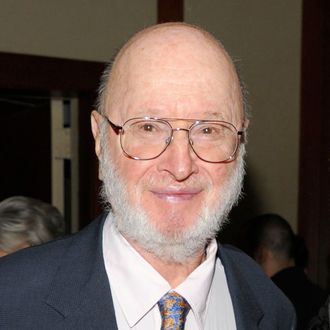 Heading to the Hamptons.
Photo: Owen Hoffmann/Patrick McMullan
Thirty-four years after he first bought his apartment on the Upper West Side, just blocks from "the little fish store" that grew to become Citarella's as we know it, Jules Feiffer has put his place on the market. Halstead Property's Randi Ellen Good is representing the four-bedroom, three-and-a-half-bath, priced at $4.395 million.
The acclaimed cartoonist, author, playwright, and illustrator of The Phantom Tollbooth says he's staying in Southampton for good. Of the city, he says, "You begin each day coping. There's a kind of built-in abrasiveness living in the city. You wake up and you start dealing with the events of the day. If you don't start dealing, you fall behind." Compare that to his half-acre spread in the East End, where "it's easier, more relaxed … It's just my own deadlines and my own mishegoss."
Feiffer, who penned this political cartoon for the Village Voice in 2008 after a protracted election cycle, says he was up late last night watching the returns. He's not working on another Obama cartoon, though he has a graphic novel in the works. "I think I can trust him to take care of business without me."