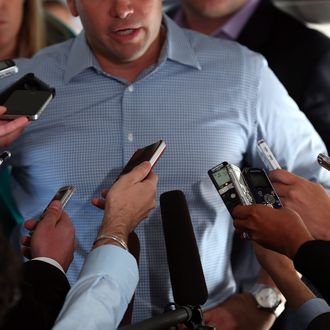 U.S. Sen. Marco Rubio speaks to reporters on the campaign plane of Republican presidential candidate, former Massachusetts Gov. Mitt Romney on October 27, 2012 en route to Orlando, Florida. With less than two weeks before election day, Mitt Romney is campaigning in Florida.
Photo: Justin Sullivan/Getty Images
Cherubic Senator Marco Rubio is headed to Iowa next weekend to headline Republican Governor Terry Branstad's "birthday fundraiser." The 2012 race ended more than a day ago. Finally, we're moving on to 2016.