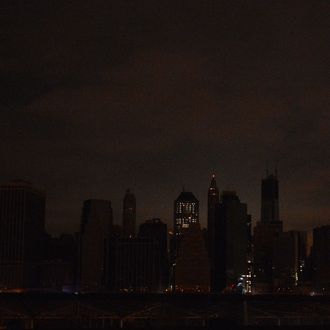 The city that sleeps.
Photo: STAN HONDA/AFP/Getty Images
And on the fifth day, Con Ed said, "Let there be light," and lower Manhattan emerged from the darkness, and the people there saw that it was good, because now they wouldn't have to hang out at the Chase bank on 41st Street to charge their phones.
Nearly everyone south of 39th Street in Manhattan has been without power since Monday night. As of 4:30 a.m. this morning, Con Ed had restored electricity to 225,000 customers citywide, but 676,000 remained powerless, including 227,000 in Manhattan. But residents there only need to hang on a little longer now.
Governor Andrew Cuomo's suddenly relevant Twitter account confirmed today that, as initial estimates predicted, the entire borough would rejoin modern civilization by Friday or Saturday at the latest after days of living in the dark ages. In fact, any city residents served by underground power lines will be able to watch Netflix again by Saturday.
Staten Island isn't as lucky. Con Ed says that thanks to 11,000 downed above-ground power lines, electricity won't be restored to the island's 113,000 unplugged customers until "the beginning of next week at the earliest." Always the bridesmaid.