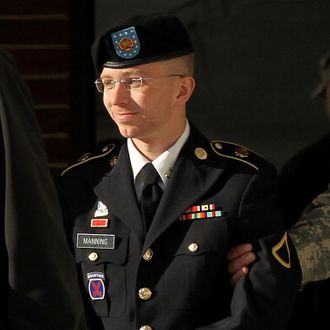 The latest issue before the court in the military trial of Pfc. Bradley Manning couldn't be more serious: Manning's prison guards are alleged to have kept him in conditions tantamount to torture, with questionable justification. But some of the evidence before the court is so very goofy, including a poem one guard allegedly wrote about confiscating Manning's underwear.
According to the Guardian, Manning was kept in the brig of the Quantico marine base under a "prevention of injury" order because of his allegedly erratic behavior. The order "involved Manning being held in his cell for 23 hours a day in solitary confinement, having all his possessions withheld, being checked every five minutes, held overnight with the light on, and at times stripped of all his clothes." At one point, the guards confiscated Manning's underwear after he allegedly said, "I have everything I need right here to be able to harm myself. The waistband of my underwear can do this," the Associated Press reports. That inspired one of the guards to pen a version of Dr. Seuss's Green Eggs and Ham that Manning's attorney David Coombs read aloud in court:
"I can wear them in a box,

I can wear them with a fox,

I can wear them in the day,

I can wear them so I say,

But I can't wear them at night,

My comments gave the staff a fright."
Manning is trying to have the charges against him for allegedly passing information to Wikileaks dropped on account of his harsh pretrial treatment. He's expected to testify later this week.