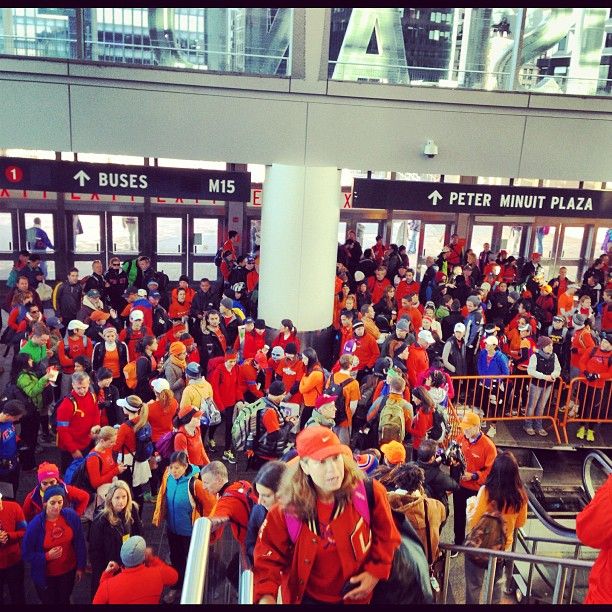 In an alternate universe, today New York City is festooned with all the trappings of its annual mega-marathon as 47,000 runners from all over the world through its streets, with many times that number cheering them on. But in our actual post-Hurricane Sandy universe, there is no marathon, only a city still reeling from the storm. "Our first reaction was it's a shame," longtime New Yorker Jordan Metzl (set to run his 30th marathon today) tells Bloomberg News. "And then we wondered what can we start to do to help. Let's run into Staten Island." He set up the Facebook group New York Runners in Support of Staten Island and this morning, he along with 500 other orange-jacketed runners streamed onto the 8:30 a.m. Staten Island Ferry with backpacks full of essential supplies — batteries, hats and gloves, baby diapers, gift cards, and more — to hand out to the distressed residents of New York's often forgotten fifth borough.
For Indianapolis runner Mike Sawa this was a chance to dig deep. "I got more than I gave," he tells ESPN. "I came here to run the race, [but] this was much more rewarding than any race."
But it's not just Staten Island that's getting all of that marathon love — another group of runners-turned-volunteers biked into Brooklyn earlier today to help, and marathon couple Jaclynn Larington and Sarah Hartmann started NYCMore2012.org as a citywide relief effort site. And the city's hard-hit areas, from the Lower East Side to Red Hook to the Rockaways, were all thronged with eager volunteers. Reuters blogger Felix Salmon, down by the ravaged South Street Seaport, tweeted bright and early this morning: "Biggest problem: too many volunteers! Also, the unionized construction crews don't seem too happy." Unbelievably, some professional helping hands were actually turned away from one New Jersey town; according to WAFF-TV in Huntsville, Alabama (via The Daily Caller) two non-unionized power utility crews from down South were turned away by their unionized brethren in Seaside Heights. They've instead gone to Long Island, where we're sure their help will be much appreciated.