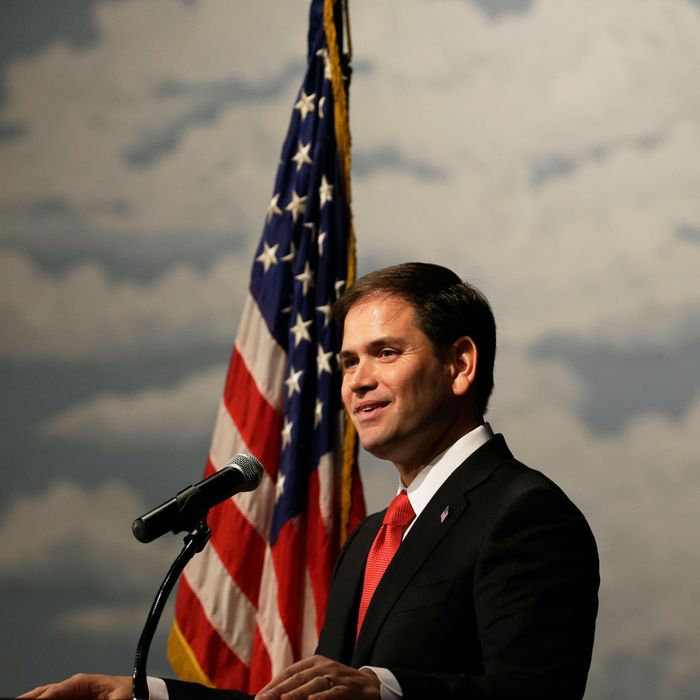 Photo: Charlie Neibergall/AP/Corbis
For the Republican party Establishment, the path of least ideological resistance is to move leftward on immigration, and hopefully thus to close its cavernous deficit among Latino voters, and then to change on absolutely nothing else. That's the course of action urged immediately after the election by Charles Krauthammer ("the problem is hardly structural. It requires but a single policy change: Border fence plus amnesty … Imagine Marco Rubio advancing such a policy on the road to 2016").
You know who else might find this vision attractive? Marco Rubio. The Florida Senator and tea-party darling is already visiting lovely Iowa. Interestingly, as the rest of the party has piled on Mitt Romney's vicious post-election "gifts" comments, Rubio defended Romney:
"Oh, I don't think so," Rubio said when asked if Romney's comments had damaged the Republican Party's hopes of moving forward into a new era.

"Obviously he's coming off his election, he was talking to his donors, but you know, I think we're all gonna move on and we're gonna move forward, and I hope Mitt will stay involved in politics. I thought he was a great candidate, would have made a great president, and I hope he stays involved in our party."
What is the upside of defending Romney? Well, Rubio gets to court a large fund-raising network. But, more broadly, he gets to send a strong signal that he is not prepared to abandon the party's basic philosophical commitments on economic class. The Rubio sales pitch is going to be that he can win over Latino votes without compromising on any other items of the policy agenda.
The big question for Rubio will come if and when President Obama decides to move on immigration reform. The GOP base will surely be outraged, and opposition to whatever Obama supports will surely be a basic threshold nominating issue. The challenge for Rubio will be to maintain his standing as the guy who can appeal to Latinos while still opposing immigration reform.
In any case, the race is on. Meanwhile, Paul Ryan has let it be known that, contrary to his previous protestations that he may not want to run for president, he loved the campaign trail and "particularly enjoyed his time spent in Iowa, where his wife, Janna, visited her grandmother's home for the first time in many years." It is very touching that Ryan was able to rekindle that relationship.