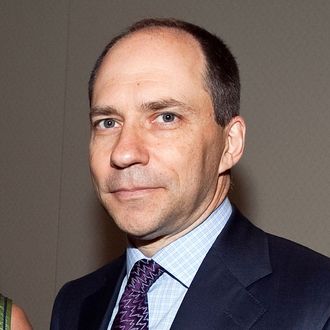 Brauchli.
Photo: Paul Morigi/Getty Images
After months of rumors about the Washington Post's lame duck — or less charitably, "dead man walking" — executive editor Marcus Brauchli, the change is now official. Brauchli, who has run the Post since mid-2008, will step down at the end of the year and be replaced by Boston Globe editor Martin Baron, both papers announced today. "I am enormously proud of what we have accomplished here, and honored to have worked among so many brilliant journalists," Brauchli said in a statement. "There is no finer newsroom."
Brauchli jumped to the Post after being shoved from his perch at The Wall Street Journal by new owner Rupert Murdoch, but presided over an industry-wide decline, including big layoffs at the Post, as well as an alienating, tone-setting scandal involving off-the-record "salons" for influential D.C. insiders.
But it's all good times in his long-awaited farewell today: "Marcus has contributed immeasurably in the more than four years he has been at the helm of this newsroom," said publisher Katharine Weymouth. "Under his leadership, we have become one newsroom publishing on multiple platforms, traffic has grown substantially and we are consistently recognized as among the most innovative mainstream news sites." He will now work as vice president of The Washington Post Company, with an eye toward "new media opportunities."
Baron, who has edited the Globe since 2001 and does not yet have a successor, told Politico of his new job, "I don't have a road map. I want to spend time talking to the staff. I expect to spend considerable time doing that, gathering thoughts. It's a great news organization and has been for my entire lifetime. So the first priority is to continue to do great journalism and prepare ourselves for the digital future — or the digital present."