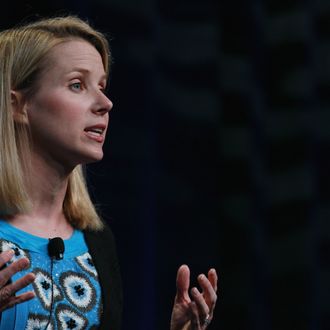 Buckle up, Yahoos.
Photo: Justin Sullivan/Getty Images
When Marissa Mayer came into Yahoo last summer as the company's new CEO, she won over the struggling company's weary workers by instituting a series of feel-good policies — free lunches in the company café, getting rid of BlackBerrys, allowing the removal of annoying Rs in the company logo.
But snacks alone do not a corporate turnaround make, and Mayer is reportedly planning to crack the whip on more serious issues in the coming months. Kara Swisher of AllThingsD reports that Mayer is planning to end the longstanding practice of giving all of Yahoo's employees the week between Christmas and New Year's off from work, and begin a program to cull the bottom 20 percent of the company's workforce.
Swisher reports:
Under Mayer's plan, sources said, there will be new measurements of performance instituted for staff, based on a variety of benchmarks and evaluations, in order to better understand who the best employees at Yahoo are.

Once that is complete, the company will begin to cut back on compensation for the bottom 20 percent, including moving them out of Yahoo entirely … Mayer is aiming to make the process more organized and talked about this performance-based system in a company meeting in September. At the time, she noted that employees would be judged on four "Cs" — culture, company goals, calibration and compensation.
Yahoo has suffered cutbacks before. In April, former CEO Scott Thompson brought in the Boston Consulting Group to figure out what to do about the company's flagging stock price. That process ended with the announcement of 2,000 layoffs, amounting to about one out of every six workers.
If Swisher's sources are correct, this new round, Mayer's first since taking the reins at Yahoo, will hit one out of every five remaining workers with some form of punishment, be it layoff or pay cut.
Running a tech company with problems like Yahoo's isn't a popularity contest. But Mayer, who has been all sugar and spice since arriving as CEO, was surely enjoying her cadre of adoring new employees. Now, she'll have to make tough decisions about layoffs and cost-cuts, and deal with the unhappy social fallout. At least until the dust settles, the Mayer laugh may be hard to come by.