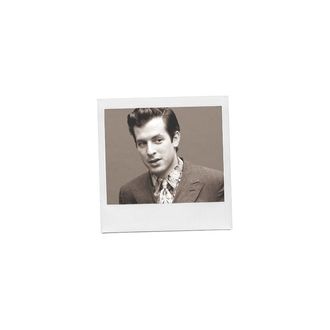 Photo: Courtesy Mark Ronson
Name: Mark Ronson
Age: 37
Neighborhood: Greenwich Village
Occupation: DJ/Producer. You can catch him soundtracking the night tomorrow at the Bowery Hotel, while mixologist David Wondrich provides the drinks. Part of the Esquire, a pop-up sponsored by the magazine, with tickets and information available here.
Who's your favorite New Yorker, living or dead, real or fictional?
Rupert Pupkin, my favourite De Niro performance in a movie that perfectly encapsulates the dangerous, oddball yet magical spirit of NYC in the early eighties.
What's the best meal you've eaten in New York?
Puntarelle & the Rigatoni Pitti at Bar Pitti. I've probably had it three to four hundred times.
In one sentence, what do you actually do all day in your job?
Chop up drum breaks and rally the troops.
What was your first job in New York?
Intern at Rolling Stone magazine, the summers of '87-'89. I would do anything from make coffee to call up mom & pop record stores to get their bestsellers for the week, as that was how RS compiled their chart back then. I also used to operate the switchboard. My voice hadn't broken yet, so it sounded ridiculous when people would call.
What's the last thing you saw on Broadway?
Book of Mormon. It had a pronounced effect on me. I am now a Mormon.
Do you give money to panhandlers?
Yes.
What's your drink?
Whiskey … Jameson, Lagavullen, whatever. I usually drink it neat but I'm not too fussy. I could take it through an IV and be okay with it.
How often do you prepare your own meals?
Seldom to none. I'm not very good at cooking.
What's your favorite medication?
Claritin.
What's hanging above your sofa?
A Polish release poster for the film Zelig. An ex bought it for me. She knew how much I loved Woody Allen and the Polish.
How much is too much to spend on a haircut?
More than $125?
When's bedtime?
Usually between 1 a.m. and 3 a.m.
Which do you prefer, the old Times Square or the new Times Square?
Naked cowboys and M&Ms vs. sleaze & jazz? You tell me.
What do you think of Donald Trump?
I'm thinking of how he went from being a cuddly, curmudgeonly, megalomaniac to being a world-champion Penicorn.
What do you hate most about living in New York?
Not living in New York.
Who is your mortal enemy?
As of three weeks ago, Sheldon Adelson. As of this week, I'm open to suggestions.
When's the last time you drove a car?
September 15, Nashville: I went down there for a friend's wedding. I love it down there. I visited the old RCA studios where Elvis recorded all his hits and got a bit emotional.
How has the Wall Street crash affected you?
I'm way, way too paranoid to invest in the market; call me Johnny Mattress.
Times, Post, or Daily News?
Times, all day, every day.
Where do you go to be alone?
I go to work.
What makes someone a New Yorker?
Feeling sad when you leave.