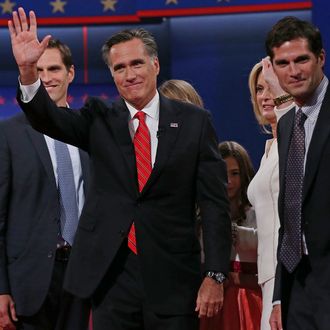 Mitt and Matt.
Photo: Justin Sullivan/Getty Images
Mitt Romney has made a point throughout his campaign to refer, with teeth, to Russia as our country's "number one geopolitical foe" and promising to have "more backbone" than Barack Obama when dealing with the Kremlin. But that's all just bluster, says Romney's second-oldest son Matt, who made a sojourn this week to the former Soviet Union in search of investors for his real estate company. According to Matt's colleague, it was just a "harmless trip," but the New York Times has the juicy geopolitical gossip via an anonymous source:
>
[…] while in Moscow, Mr. Romney told a Russian known to be able to deliver messages to Mr. Putin that despite the campaign rhetoric, his father wants good relations if he becomes president, according to a person informed about the conversation.
Now we're used to these rascals saying things they don't mean, but that sure sounds like some massive foreign policy undermining just days before the election. Can a grown man get grounded?