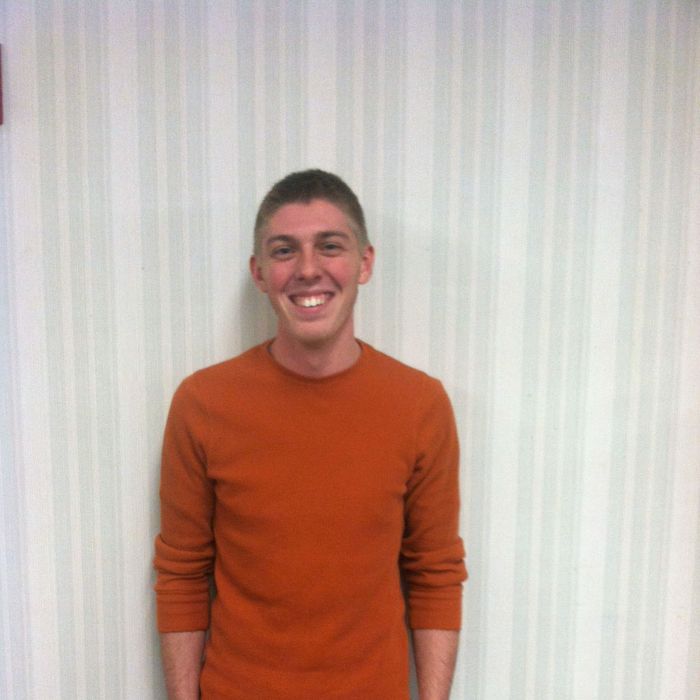 Jacob Riley.
Photo: Kevin Roose
For the past year, at least, Ohioans have been under siege from an unyielding barrage of robocalls, door-knockers, TV ads, and AM radio spots, all telling them which presidential candidate to pick at the polls. Most persuadable voters made up their minds months ago.
But on the eve of Election Day, Daily Intel found the rarest of rare birds: a real, live undecided Ohio voter.
Jacob Riley, 18, is a student at Malone University, an evangelical Quaker college in Canton. He's from Rootstown, a township of roughly 7,000 people located halfway between Akron and Youngstown, and he voted for Rick Santorum in the Republican primaries last spring. But despite the fact that his phone, mail slot, and e-mail in-box have been completely inundated by politicians and pollsters for months, Riley just can't figure out which presidential candidate he prefers in the general election.
"I'm pretty 50-50 right now," he said on Monday night, less than 24 hours before the close of polls. "I still have time."
When we asked, incredulously, how Riley had managed to stay undecided for so long, he said he "tried to avoid TV" during the election and stayed mostly out of political conversations with his friends and family members. He said he was torn between supporting Obama's economic policies and supporting Mitt Romney's more evangelical-friendly stances on issues like abortion.
"I'm going to do more research, talk to some people who are more sure of how they're going to vote, and then make my pick," he said.
Riley added that, after an eleven-month campaign, he would probably make his final choice after his Old Testament class on Tuesday afternoon, before driving to the polls in Rootstown.