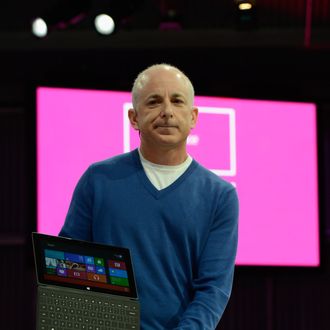 Why did this man leave? I DEMAND ANSWERS.
Photo: Kevork Djansezian/Getty Images
I've never understood the appeal of corporate Kremlinology. Sure, some departures and firings are fraught with meaning for the company involved, and others are prurient and fun to gossip about. But your everyday announcement that Executive A is leaving Company B for Competitor C (or to Spend More Time With Family D) rarely does it for me, even though I'm guilty of having written about my fair share.
Take, for example, the departure of Steven Sinofsky, Microsoft's head Windows dude, who left the company yesterday because … well, no one really knows why. (CEO Steve Ballmer said only that Sinofsky's departure coincided with a "new era" at Microsoft.)
Not that a lack of actual reasons kept the tech press from speculating! As the Times points out in its roundup of theories, legion are the theories about why Sinofsky, a successful executive who was thought to be a leading CEO candidate, departed Microsoft's Redmond oasis.
Was it, per the Times, "a 3 percent decline in the revenue of Microsoft's Windows business?"
Was it, per Bloomberg Businessweek, "his often-prickly nature?"
Was it, per CNet, "Sinofsky angling to take over more business units?"
Was it, per AllThingsD, to "better allow various units work together more closely going forward?"
Was it, per the Seattle Times, because Microsoft is "hiring Scott Forstall, the ousted head of mobile software development at Apple?"
Or was it because rich and important people sometimes change jobs for various and intersecting reasons having to do with both their personal priorities and the strategic decisions made by their employers, just like the rest of us?