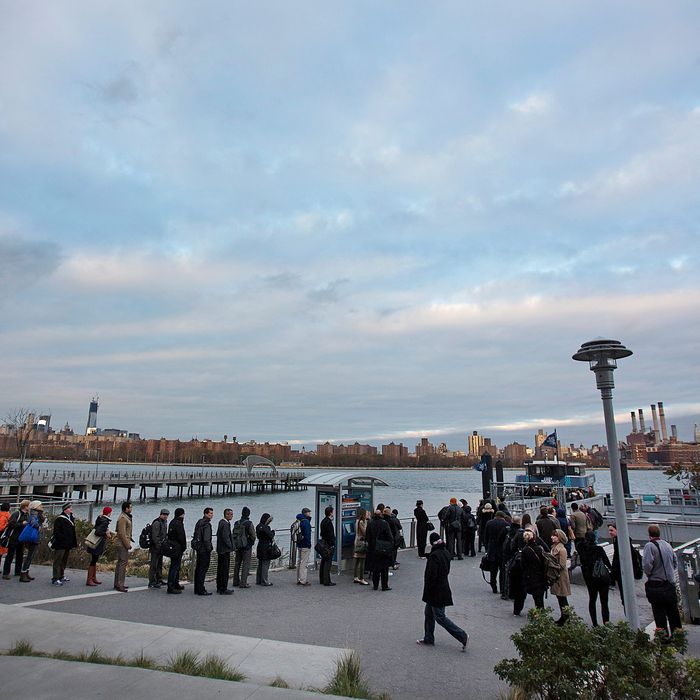 The ferry line for isolated Brooklyners.
Photo: Scott Eells/Bloomberg via Getty Images
To prove a point, Mayor Bloomberg took the subway to work this morning, less than a week after Hurricane Sandy crippled large parts of New York City and its public transportation system. Point taken: It works.
But there will be crowds.
The widespread work-from-home weirdness of last week is over, with many of us emerging into a different, still-broken city with bleary newborn eyes and uncertain expectations. In time for the Monday morning rush, the MTA announced, "More than 80% of subway is restored, but it'll carry less than 80% of normal capacity. Trains will be crowded & run w/extended intervals." It's part statement of triumph and part warning: "We are in uncharted territory here in bringing the system back," MTA chief Joe Lhota said yesterday. "I just ask everyone to be understanding, and also try to think about flex time and try to leave a little bit earlier or a little bit later."
The only lines not running in some capacity are the B, G, and Z trains, while the L still can't get into Manhattan. Here's the whole rundown, as of now: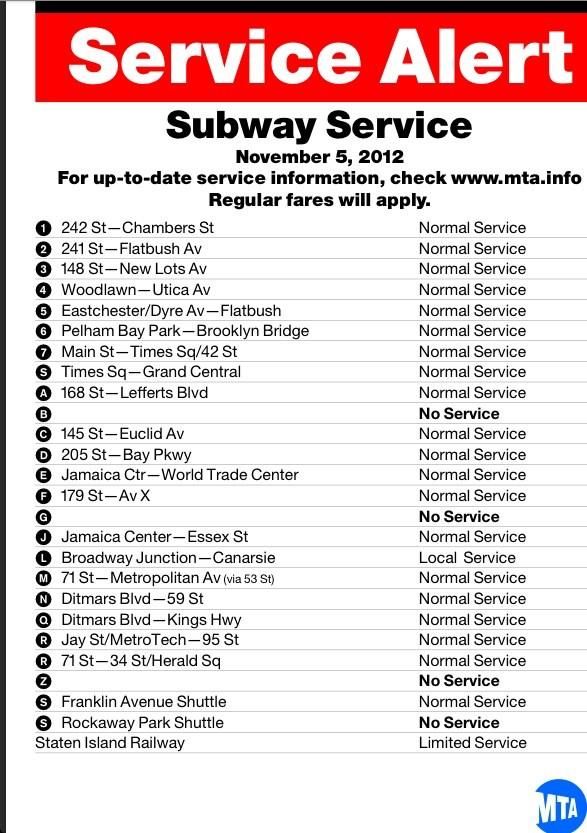 With most of the city's schoolchildren joining the work force in getting back on schedule, roads also remain clogged, despite the dire and cutthroat gas shortage. The Holland Tunnel, Brooklyn Battery Tunnel, and Queens Midtown Tunnel are still closed to cars, and buses are reportedly packed too. The New Jersey Transit Coast Line, which just started running again yesterday, suspended service this morning "due to overcrowding."
But the hell that was getting to work last week is no more for most. Considering the damage done, the transit recovery has been miraculous, even if things are far from perfect. It's a process.