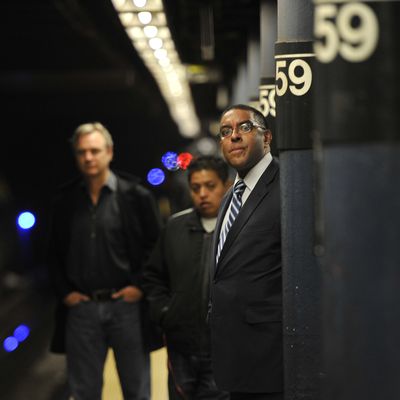 As if ConEd wasn't under enough pressure with reports of Lower Manhattan residents foraging for cell phone charges and hitting the bottom of their canned tuna supply, at a Thursday night news conference Governor Cuomo and MTA Chairman Joe Lhota revealed that the MTA is essentially ready to restore subway service between Manhattan and Brooklyn, it's just waiting for electricity. The Joralemon and Rutgers tubes, which carry the 4/5 and F lines, have been cleared and could be up and running within two hours, which would be a big step toward alleviating New York's transportation woes. "We can't run subway service down there because without electricity we can't run the third rail," said MTA Chairman Joe Lhota. "We've been spending a lot of time on the tunnels. We're ready. We just need the juice."
Lower Manhattan is set to see light again by this weekend, but commuters should expect another messy trip on Friday — particularly because they're losing one method of transportation. According to the New York Times, the Taxi Commission warned that due to the fuel shortage, there will be fewer cabs available on Friday. 
On the bright side, the subway is gradually coming back on line. On Thursday some M train service was restored between Jamaica, Queens, and 34th Street in Manhattan. Partial service was also restored on the 7 train from Main Street in Flushing to 74th Street in Jackson Heights, which will allow commuters in Queens to transfer to the F and M trains to continue to Manhattan. For those curious about what exactly clearing a subway tunnel entails, the MTA released a video of workers pumping disgusting flood water from the South Ferry station.
Cuomo noted that while things are slowly improving for New Yorkers, the biggest question is still, "I have power or I don't have power." He said he believes the utility companies are "working very hard to restore the power," but in case they aren't, he reminded them of the stakes. "We don't do business with a utility company on a handshake," said Cuomo. "This is going to be a test of their performance and I want them to know that."
Update: A ConEd spokesperson told Bloomberg Radio early Friday morning that power will be restored to all of Manhattan today. 
Update 2: Not so fast: ConEd corrected its own spokesperson, saying it stands by the Saturday estimate of full power restoration for Manhattan. The times reports ConEd will restore power to the southeastern-most portion of Manhattan by today (near the Brooklyn Bridge). It's not yet clear how this will affect the subway service in the area.