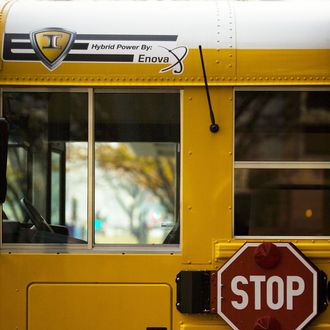 Following a full week without classes, the majority of New York students will be headed back to school Monday morning. "We will have a seat for every child, [though] classes may not be big and they may not be in the right place," said Mayor Bloomberg yesterday. As it turns out, that's not exactly true: At least 65 public schools will remain closed because eight are being used as shelters and another 57 are powerless or damaged. Some kids will be temporarily relocated to other buildings, but about 100,000 students will miss at least another day. (Bummer?) According to teachers union president Michael Mulgrew, up to 45 public schools may remain shuttered for the rest of the year — a logistical nightmare for the Department of Education, which will be stuck figuring out where to teach its now classroom-less students. 
The city's major universities also endured their fair share of deluge and damage during the hurricane. NYU, whose medical center famously went dark requiring a harrowing evacuation during the blackout, is ready for full classes tomorrow even as cots remain available in the Coles athletic center (for graduate students whose commute is "impracticable and intolerable") and the Kimmel Center (where Alec Baldwin raised morale on Thursday.) Meanwhile, the school's law students are in for a more grueling year: American Bar Associations regulations say that lost class hours have to be added to the rest of the semester, meaning days will now start half an hour earlier (at 8:30 a.m.) and run until nearly 10 p.m. 
The neighboring New School is also set to reopen tomorrow, as is most of the CUNY system. (Its Brookdale Health Sciences campus on East 25th Street  will be temporarily relocated to the main East 68th Street Hunter College campus. Classes at the Financial District's Pace University will not resume until Wednesday due to a lack of heat or hot water.