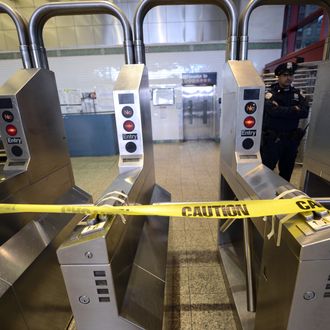 The MTA estimates that it will take $4.75 billion to repair the damage caused by Hurricane Sandy, and while Governor Cuomo says he'll ask FEMA to cover 100 percent of the costs, the agency may still come up short. FEMA is only required to pay for 75 percent of the damage, and even with insurance covering about $1 billion, the MTA may be on the hook for around $950 million. Though the agency wasn't exactly flush with cash before the storm hit, on Wednesday MTA Chairman Joe Lhota said riders suffered enough during the storm, and he doesn't want to hit them with fare hikes or service reductions. "The burden of Sandy will not be upon our riders," said Lhota. "I have an enormous amount of confidence in the federal government that we will receive a substantial amount of money to cover what's necessary to get us back to the condition of functionality the day before the storm." But just in case the federal government doesn't come through, the MTA has a plan to borrow $4.8 billion in the next three years.
Under the plan, the city might have to pay as much as $29 million in interest next year, and $48 million in both 2014 and 2015. Lhota said that money will come from internal "cost-cutting measures" that are "unidentified at this time." While some have questioned the MTA's astronomical estimates, Lhota defended some of the big ticket items, including the $600 million to repair South Ferry Station. Flooding brought down walls in the station, damaged machinery, and trashed a control room for the 1 train. "South Ferry was destroyed," Lhota said. "It wasn't hurt. It wasn't wrecked. It was destroyed."
Despite Lhota's assurances that the burden won't fall on riders, Gene Russianoff of the Straphangers Campaign said that taking on such massive debt could create more pressure to increase fares down the line. And regardless of Sandy, the MTA is still moving forward with the fare hike scheduled for March.