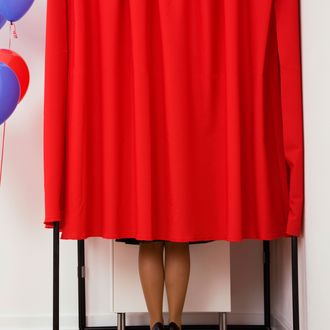 Of course, the good ol' voting booth is also an option.
Photo: VStock LLC/Corbis
With much of New Jersey still recovering from Hurricane Sandy — and enduring fuel shortages — the state's government has resolved to make Election Day voting as easy as possible. Mail-in ballots postmarked by tomorrow will be accepted as late as November 19th; county clerks' offices are open all weekend to handle last-minute applications; those displaced from their homes can vote in whatever county they find themselves in; and, most importantly, New Jerseyites can now vote by e-mail or fax. Applications to do so are available here. (Note that they must be e-mailed or faxed in by  by 8 p.m. on Tuesday.) Of course, this requires a working fax machine or internet connection, and 31 percent of New Jersey homes and businesses are still without electricity yesterday, according to BusinessWeek. 
As for the obligatory (and mostly Republican) concerns about electronic voting leading to voter fraud: TechCrunch notes that those who opt for this method will "have to waive their right to privacy, since election officials will have to check the name printed on the ballot against the voter and registration rolls" in order "to avoid duplicates, among other possible sources of fraud and mistakes," so those running for office need not worry about Sandy snatching away their rightful wins (at least not via voter fraud, anyway.) And there'd need to be a lot of voter fraud to overcome President Obama's average 11.8 point lead in statewide polls.