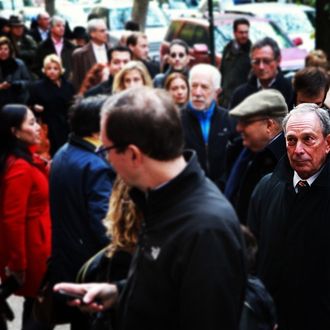 When Barack Obama, in his victory speech on Tuesday, shouted out those voters who "waited in line for a very long time" — "by the way, we have to fix that," he added — a bunch of New Yorkers nodded their heads vigorously. Even Mayor Bloomberg spent a chunk of Election Day standing around, and he wasn't happy about it either. "We don't have a system for the 21st century," he said yesterday. "It's just a disgrace."
"I think the real answer here is: We should reform this system," the mayor continued, beating up on one of his favorite targets: the Board of Elections and its patronage system. "It should not be two parties and county leaders picking their buddies to supervise the basis of our citizenship." (As the Times notes, "The board currently has no executive director in part because the county leaders have not been able to agree on a candidate.")
City Council Speaker and potentially our next mayor Christine Quinn agreed that the system needs a "major soup-to-nuts overhaul," while Assembly Speaker Sheldon Silver suggested that New York should "seriously examine" using early voting. While everyone in power agrees some fixes are in order, there's no consensus on the best way to go about it, with options including an amendment to the state constitution and a various other legislative proposals.
"Some people have said we should have the mayor and the City Council appoint the members of the board," said Assemblyman Brian Kavanagh, but "when the mayor and City Council have an interest in the outcome of the election, how is that any better?"
Maybe we should vote on it.