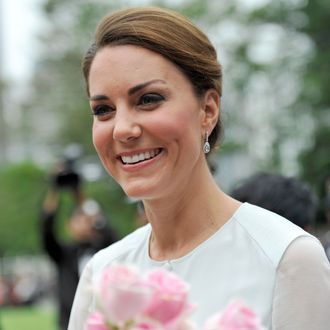 Catherine, the Duchess of Cambridge, smiles as she walks in the garden of KLCC during the Cultural Fair event in Kuala Lumpur. Britain's Prince William and his wife Catherine are visiting Malaysian capital Kuala Lumpur as part of a nine-day Southeast Asian and Pacific tour marking Queen Elizabeth II's Diamond Jubilee.
Photo: Najjua Zulkefli/Zumapress.com/Corbis
Now that the Duchess of Cambridge has taken up her own photography project, the world has basically forgotten about the revealing vacation pictures of her that were making the rounds earlier this fall. (Especially now that we have the image of Kate dressed as a giant baby seared into our brains.) However, the fallout has continued across the Atlantic, where Michael O'Kane — the editor-in-chief of the Irish Daily Star, who republished the photos after their initial run in French magazine Closer — has resigned from his post. The paper's owners had originally considered shutting it down, but, following an internal investigation of the decision, it seems that O'Kane's exit was enough to keep shareholders — and, perhaps, the nearby Buckingham Palace — happy.