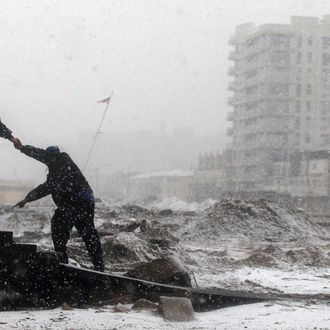 Two men climb on a destroyed section of boardwalk in the Rockaways as the storm approaches.
Photo: Mario Tama/2012 Getty Images
Just nine days after Hurricane Sandy tore up parts of New York and New Jersey, residents got another dose of weather-related trauma on Wednesday as a nor'easter brought high winds and a messy mix of rain, ice, and snow. The temperature hovered around freezing, and by 10 p.m. the number of power outages in the two states had jumped from 607,000 during the day to 652,000. Some shore towns were ordered to evacuate in New Jersey and Long Island, but Mayor Bloomberg held off on issuing mandatory evacuations in the city. He explained that people might not listen next time if they think he's "crying wolf," but residents in low-lying areas were encouraged to "consider going someplace else tonight, to be a little bit on the safe side." Still, some were unwilling or unable to leaves their homes, and spent another night camping out in their frigid homes. Naturally, Cory Booker spent the evening clearing the streets and securing free Hot Pockets for Newark residents, but he also stopped by Piers Morgan to talk about the storm. "It's Mother Nature's one-two punch," said Booker. "It's testing the resolve and the grit of my state and my city and, obviously, this region."
As the area braced for another storm, the death toll from Sandy continued to rise. In the Rockaways, 78-year-old William McKeon was found at the bottom of a dark and wet stairwell in a beachfront apartment building. On Wednesday the city's medical examininer ruled that his death was storm-related, making him Sandy's 121st victim.
In the afternoon nearly 1,500 flights were canceled in anticipation of the storm, and transportation problems only grew worse as the night wore on. At around 6:30 p.m. the Long Island Rail Road suspended service systemwide, then closed Penn Station due to signal problems and other weather-related issues. The station was reopened about two hours later and the LIRR restored limited service. The storm is expected to taper off by rush hour on Thursday morning, but thanks to the cold the ice and snow is expected to stick, making for a difficult and dangerous commute. With about four inches of snow on the ground in Central Park late on Wednesday night and more than seven inches in other parts of New York and New Jersey, the storm is on track to be the biggest snowstorm on record in October or November — in other words, definitely the last thing we needed post-Sandy.