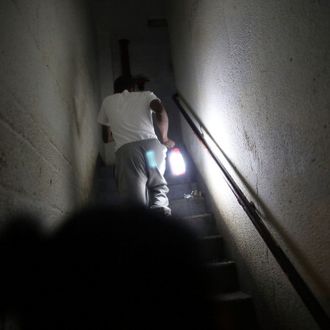 Two weeks and a day after Hurricane Sandy barreled ashore, pushing much of the Atlantic Ocean with it, electricity has finally started flowing to all the New York City Housing Authority projects affected, Mayor Michael Bloomberg announced via Twitter on Tuesday night. That's a bit later than Bloomberg's prediction on Friday that the power would be back on that same night, but at least he's keeping us posted. News regarding the status of NYCHA utilities has been scarce, and the New York Daily News reports that's by design, as NYCHA general manager Cecil House instructed his staff not to answer questions from politicians or news media.
"If approached by an Elected Official: Please do not provide information," he reportedly wrote in an internal e-mail. Instead, the staff were to direct politicians to an "intergovernmental team." The same memo told them not to talk to reporters, either. "As of Tuesday, 18,000 NYCHA tenants were still without heat and hot water and 1,000 were still without power," according to the Daily News. At least the power is back on, per the mayor. No word yet on when water and heat will be restored.
The agency finally sent its employees door-to-door at the public houses in Red Hook on Wednesday, and they weren't exactly welcomed with open arms. "Of course, people are going to be a little bit upset because it's been two weeks," one resident told WNYC. Another put it more bluntly, in a report by DNA Info: "It's all fucked up out here, man," he said.
This whole situation makes the authority's decision to keep charging residents their full rent until January 1 seem completely absurd, a sentiment Public Advocate Bill De Blasio expressed in his letter Monday to NYCHA chairman John Rhea. "While NYCHA has committed to giving these tenants a rent credit in January of 2013, this policy in no way reflects the immediate needs of affected developments," De Blasio wrote. Rhea called the January rent credit a "Christmas present," which naturally led residents to compare it to a lump of coal. They wish — at least you can burn a lump of coal and get some heat going.
This post has been updated throughout.