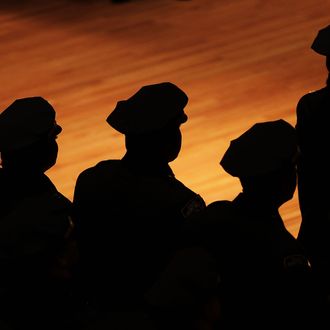 Photo: Spencer Platt/Getty Images2012 Getty Images
When the New York Daily News reported on Thursday that the city's homicide rate for 2012 was on track for a record low, Deputy Commissioner Paul Browne seized on the news to justify the police department's controversial stop-and-frisk program with an argument that's already been shown to be misleading. According to the Daily News, Browne "said stop-and-frisks were the most effective tool in the police force's arsenal because an 'illegal gun taken from someone's hip was likely a gun used to rob, wound or kill someone.'" But the numbers don't bear that out.
The last time someone made this argument in defense of stop-and-frisk it was Mayor Michael Bloomberg, who claimed in May that the guns taken off the street by the program were making the city safer. At the time, DNAinfo's Muray Weiss showed with city statistics that while street stops had gone up by some 600 percent since Bloomberg came into office, shootings had stayed at almost exactly the same level.
This year shootings are down, but so are stop-and-frisks. "There have been 1,234 shootings this year, a dip of 6.2% compared with the 1,315 reported at the same time last year," the Daily News reports. Meanwhile, stop-and-frisks have dropped at a greater percentage, down 34 percent from last year in the second quarter, and 30.4 percent in the third. If stop-and-frisks are the most effective tool police have to prevent deadly violence, it would stand to reason that when cops do fewer of them, the violence goes up. So far, it hasn't.