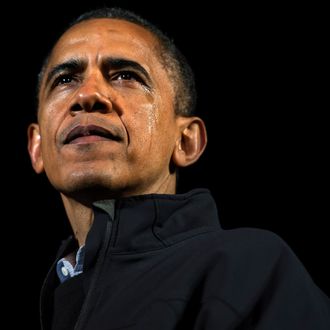 An emotional President Barack Obama wraps up his campaign with a final stop in downtown Des Moines, Iowa, on Monday, November 5, 2012.
Photo: Nikki Kahn/The Washington Post
As part of his four-day trip to Asia, Obama visited Bangkok's Wat Pho temple, where he chatted with one of the resident holy men about his upcoming showdown with Congress over how to reduce the deficit without triggering another recession. "We're working on this budget," he said. "We're going to need a lot of prayer for that." And what if God doesn't come through? Don't worry — Obama also called upon Warren Buffett and Jamie Dimon for support on this one.