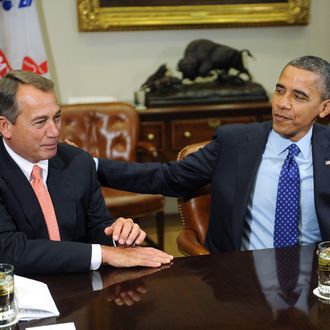 Here's an idea: Let's just do what I want.
Photo: Pool/2012 Getty Images
For weeks Republicans and Democrats have been at a standoff over the fiscal cliff, and on Thursday President Obama made the first move. According to The Wall Street Journal, Timothy Geithner delivered a proposal to John Boehner that calls for $1.6 trillion in tax increases over the next ten years, $50 billion in infrastructure spending next year, and extensions of the payroll tax cut and emergency unemployment benefits, among other measures the president has already said he supports. Plus, Obama added a new demand: an end to congressional control over the debt ceiling. In return, he offered $400 billion in savings from Medicare and other entitlement programs over the next decade, with no guarantees, though Republicans have said they want the figure to be twice as high. The GOP immediately rejected the offer, and seemed taken aback by the fact that the president basically listed what he wants out of the deal, without really offering them anything.
Though Boehner had said earlier in the week that he was optimistic about reaching a compromise, after his meeting with Geithner he said, "The Democrats have yet to get serious about real spending cuts," adding, "No substantive progress has been made in the talks between the White House and the House over the last two weeks." Mitch McConnell told the Weekly Standard that he "burst into laughter" as Geithner outlined the one-sided plan.
The only really unexpected aspect of the proposal is the change to raising the federal debt limit. According to the Washington Post, Obama wants to avoid future debt ceiling showdowns by giving the White House the power to raise the limit unilaterally. Congress could pass a resolution to block an increase, but the president would be able to veto their resolution. Then Congress would need a two-thirds vote to override the veto and prevent the limit from going up.
Otherwise, the proposal just shows that the president feels he has the upper hand and is willing to put pressure on the Republicans. In the Post Ezra Klein writes that Obama used to "offer plans that roughly tracked where he thought the compromise should end up," but after a few years in the White House he's learned that he shouldn't be "negotiating with himself." It's obvious that the president didn't expect the GOP to happily sign off on his initial proposal, but he wants them to have to push for their unpopular demands — though, as Politico reported on Thursday, both sides have an idea of what the deal will probably look like. "There's the public choreography, then there is the real choreography," Rep. Rob Andrews tells The Wall Street Journal. "To reach a deal, it has to look like there was a lot of fighting before the deal was reached."
Update: Mike Allen quotes a "top Democratic aide" as saying the Republicans are basically faking outrage.
"This so-called 'opening bid' is a roundup of all the WH's publicly held positions. Boehner's office just decided to type up Geithner's recitation of the WH's long-held principles to Boehner, and leak it as an 'offer.' Um, whatever."