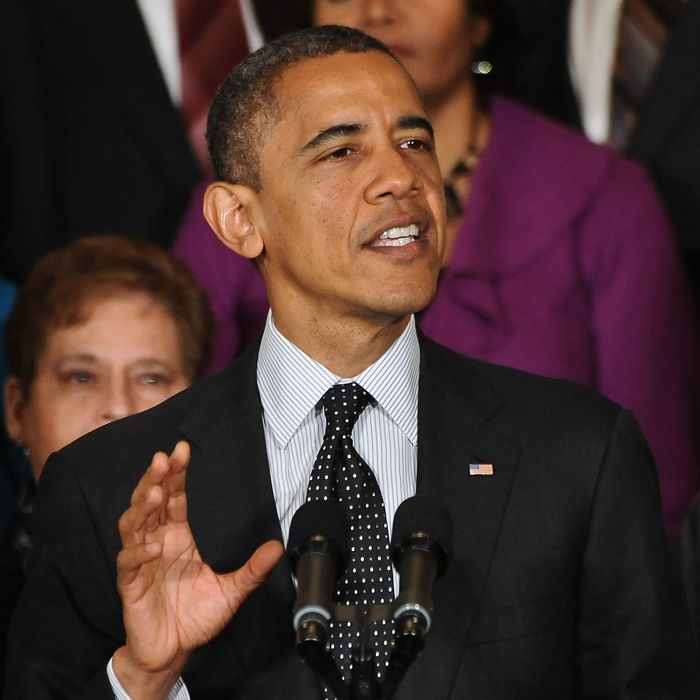 …and slowly back away.
Photo: Nicholas Kamm/AFP/Getty Images
President Obama's remarks today about the so-called "fiscal cliff" set the stage for a showdown with Congress likely to last for the next few months. Obama set one line in the sand: revenue. He announced that he would compromise with Republicans, but would not give up his insistence that high-income Americans pay more taxes as part of any long-term deficit solution.
Interestingly, Obama's remarks were not predicated on the assumption that the two sides would strike a deal before January. In fact he assumed they would not, and his message was designed to be repeated through the new year. Obama's message is that allowing the tax cuts on income under $250,000 a year to expire would harm vulnerable people and slow down the economy, and since both sides favor extending those cuts, Republicans should do it. That is to say, he presupposed the failure of the negotiations and (accurately) pinned the blame for failing to extend the middle-class tax cuts on the GOP.
The political valence of these tax cuts is the most important moving piece of the fiscal drama. Republicans want to use them as leverage against Obama. If the middle-class tax cuts expire, the economy will contract, and they intend to use this threat to force Obama to extend the tax cuts on income over $250,000 along with them. (Letting only tax cuts on income over $250,000 a year expire would barely dent the economy, the Congressional Budget Office projects, because more affluent people have larger cushions and would cut back less on their consumption in the face of a tax hike.) That strategy worked at the end of 2010, when the tax cuts originally were set to expire but they forced Obama to a full extension. That is the same strategy they appear to be following now.
Obama wants to turn the pressure around. The plan he's signaling is that he will blame Republicans for the expiration of the middle-class tax cuts — he stands ready to sign an extension, and they're refusing. If Obama can both make a credible threat not to sign a full extension, and he can threaten to blame Republicans for the damage that ensues if taxes rise, then he assumes a commanding position.
I gamed out what I believe would be Obama's plan in a lengthy story last month. So far he is following that strategy.