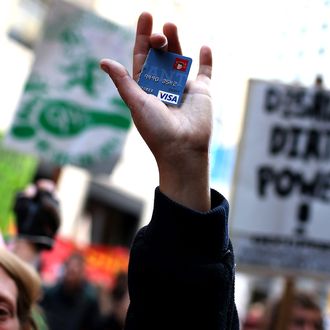 Photo: Justin Sullivan/Getty Images
Exactly one year after Occupy Wall Street's eviction from Zuccotti Park, the movement hosted what may be its most focused and ingenious action ever. The People's Bailout at the Manhattan club Le Poisson Rouge was part telethon, part variety show, and part party, with one aim: kicking off Rolling Jubilee, the new debt-relief project from the movement's Strike Debt committee.
"Three hours?!" one kid exclaimed, his eyes wide, when the program was announced at the top of the show. "That's awesome." He was not being sarcastic.
The plan is disarmingly simple: Banks and credit card companies usually sell uncollected consumer debts to collection agencies at a steep discount. Rolling Jubilee is raising money to buy that same debt and, rather than collect the money owed, wipe it clean. "Together we can liberate debtors at random through a campaign of mutual support, good will, and collective refusal," the group explains on its website.
An initial wave of positive press led to nearly $200,000 in donations before the doors even opened, and by the end of the night, the live-streaming event had brought in enough funds to eliminate more than $5 million worth of debt. The group, which plans to start with medical debt before moving on to credit cards and tuition, is thrilled with its start, but harbors no illusions about making everyone's money troubles disappear.
"We've always seen the Rolling Jubilee as a means, not an end. We know we're not going to buy $11 trillion worth of debt," said organizer Astra Taylor. "The amazing thing about this action is that it's both symbolic and real in equal measure. There is the aspect of helping these debtors  — we are truly making an impact on the individual level — but that's just a drop in the ocean of debt we are existing in. But it's also eye-opening because so many people are unaware that there's a secondary market of debt."
With a line snaking around the block and a bill that included comedians Janeane Garofalo and Daily Show co-creator Lizz Winstead, along with musical performances by members of Sonic Youth and TV on the Radio, the alternative A-listers kept a sold-out audience alert. But the show was also a quintessentially Occupy affair — uneven and overlong. There with awkward segments of theater-kid indulgence (a fifteen-piece orchestra playing a protest polka) half-baked, liberal-arts-school rants, and a burlesque performer dressed like an accountant playing with a yo-yo.
Ultimately, though, it came together, due in part to the talent assembled, but mostly on the strength of the underlying cause. While the Zuccotti Park occupation had its unifying moments last year, the movement's diverse messages were so broad that there was little to hold onto once Occupy's physical presence was uprooted.
The narrow mission of Rolling Jubilee and its "strike debt!" mantra, on the other hand, kept participants focused even when the night threatened to stray. An idea of working within a system in order to undermine it offered a subversive spark the movement's been missing. "That's a really Trojan horse move," said Fugazi's Guy Picciotto, who performed as the night's final act with Jeff Mangum of Neutral Milk Hotel. "And that's pretty badass."