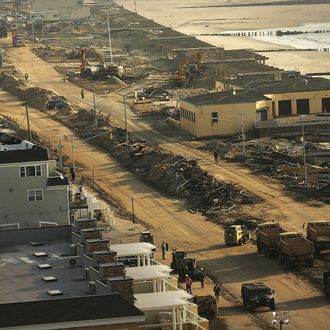 Clean up continues in the Rockaways.
Photo: Spencer Platt/2012 Getty Images
The housing situation in areas hit by Hurricane Sandy has become so desperate that some have floated the idea of placing people in an abandoned Staten Island jail, but officials are still trying to find less depressing solutions. The New York Times reports that in the last week city, state, and federal officials have been working to create a clearinghouse that would find vacant apartments for families displaced by the storm. FEMA has already spent $200 million to house 34,000 people from New York and New Jersey in hotels and motels, and would provide rent vouchers for those placed in vacant apartments. The plan is reportedly part of a rebuilding program that President Obama will announce when he visits New York on Thursday. Landlords are receptive to the idea and have been hammering out the legal details with officials, but it will only do so much to solve the housing crisis. The number of vacant units in the city is extremely low, and the $1,800 a month FEMA provides to New Yorkers in rental assistance wouldn't cover many apartments in Manhattan.
Officials are worried that there will be another surge of people seeking housing once those camping out in their homes are driven out by cold weather, and obviously that fact that 150,000 people in New York and New Jersey still have no power isn't helping. The Long Island Power Authority is drawing more ire than any utility in the region, and some lawmakers are saying that it's time for the federal government to step in. More than 60,000 homes and businesses on Long Island are currently in the dark, and another 55,000 could connect to the restored local grid, but have to wait until their flooded equipment is inspected.  Adding insult to injury, residents say LIPA hasn't been communicating about the status of the repairs, and Newsday reports that the utility ignored warnings that it wasn't ready to handle a major storm.
In New York City, 6,000 public housing residents are looking at a third week with no heat, hot water, or electricity. Mayor Bloomberg said on Sunday that the city is "getting more generators in," but "it's a question of how quickly the electricians can set things up. He added that heating is "a more complex problem, but that's coming along as well." The New York City Housing Authority tried to smooth things over on Sunday by promising to give tenants who've been left without basic necessities a break on rent in January. Understandably, many residents who still have no idea when their power will be restored weren't rejoicing, especially since NYCHA expects them to pay the current month's rent in full. "That's unfair to us because we live here and we pay rent and the only thing that they're worrying about right now is for us to pay the rent," a woman who lives in Brooklyn's Red Hook Houses told NY1. "Why should we pay rent if we're dealing with this?"