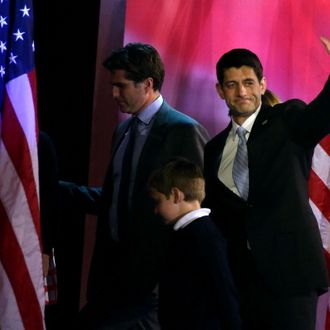 On Monday Paul Ryan gave his first round of interviews after last week's election, telling the Racine, Wisconsin Journal Times that he and Mitt Romney "ran the kind of race we wanted to run," campaigning on "specific solutions and big ideas," but adding to the Milwaukee Journal Sentinel that Obama won "fair and square" because he got a better turnout. Ryan insisted to Madison, Wisconsin's WISC-TV that "he believed Romney chose him as his running mate not to deliver the state but rather because of his knowledge of budget issues." If so that's good, because the pair lost Wisconsin by seven points.
Even though he and Romney lost the election, Ryan told WISC, "I don't think we lost it on those budget issues, especially on Medicare," but rather because the president was able to get more people out to vote. Ryan did acknowledge he was surprised by the pro-Obama turnout in his state, telling the Journal Sentinel, "the president should get credit for achieving record-breaking turnout numbers from urban areas for the most part, and that did win the election for him."
All that voting gave Ryan the chance to finally lose an election, something he described to the Journal Sentinel as "a foreign experience. It's tough to describe it." But Ryan, who retained his House seat, maintained that running alongside Romney was "a very net positive experience for us." He told WISC he was "very fortunate to have had this experience." That may turn out to be the case even more so than if Romney and Ryan had won, as now Ryan's reportedly a favorite for the Republicans'$2 2016 nomination — four years sooner than he would have been if he'd been vice-president.